The 27th European Club Association (ECA) General Assembly saw close to 200 ECA members gather largely in-person on 28 and 29 March 2022 in Vienna, Austria.
The two-day assembly allowed for detailed discussions on a wide range of policy matters relevant to European football, and the announcement of various ECA measures to support the humanitarian crisis in Ukraine.
Address by the ECA Chairman
In his keynote address (see full speech here), ECA Chairman Nasser Al-Khelaifi provided an update on the ECA's progress against the five strategic objectives set at last September's General Assembly in Geneva. These include significant progress on:
Bringing urgent financial stability to European football
Developing stronger ECA relationships
Creating more meaningful ECA member benefits
Pursuing efforts around enhancing diversity and inclusion throughout football
Renewing ECA's spirit & values
Chairman Al-Khelaifi concluded:
"If 2021 was a year for ECA to find unity and renewed purpose, 2022 is the year we will start to achieve our enormous potential – and we couldn't have started the year in better fashion. Thanks to our collective spirit and common values, ECA is now positioned in its rightful place as the central voice shaping the future of our clubs, and at the very heart of European football."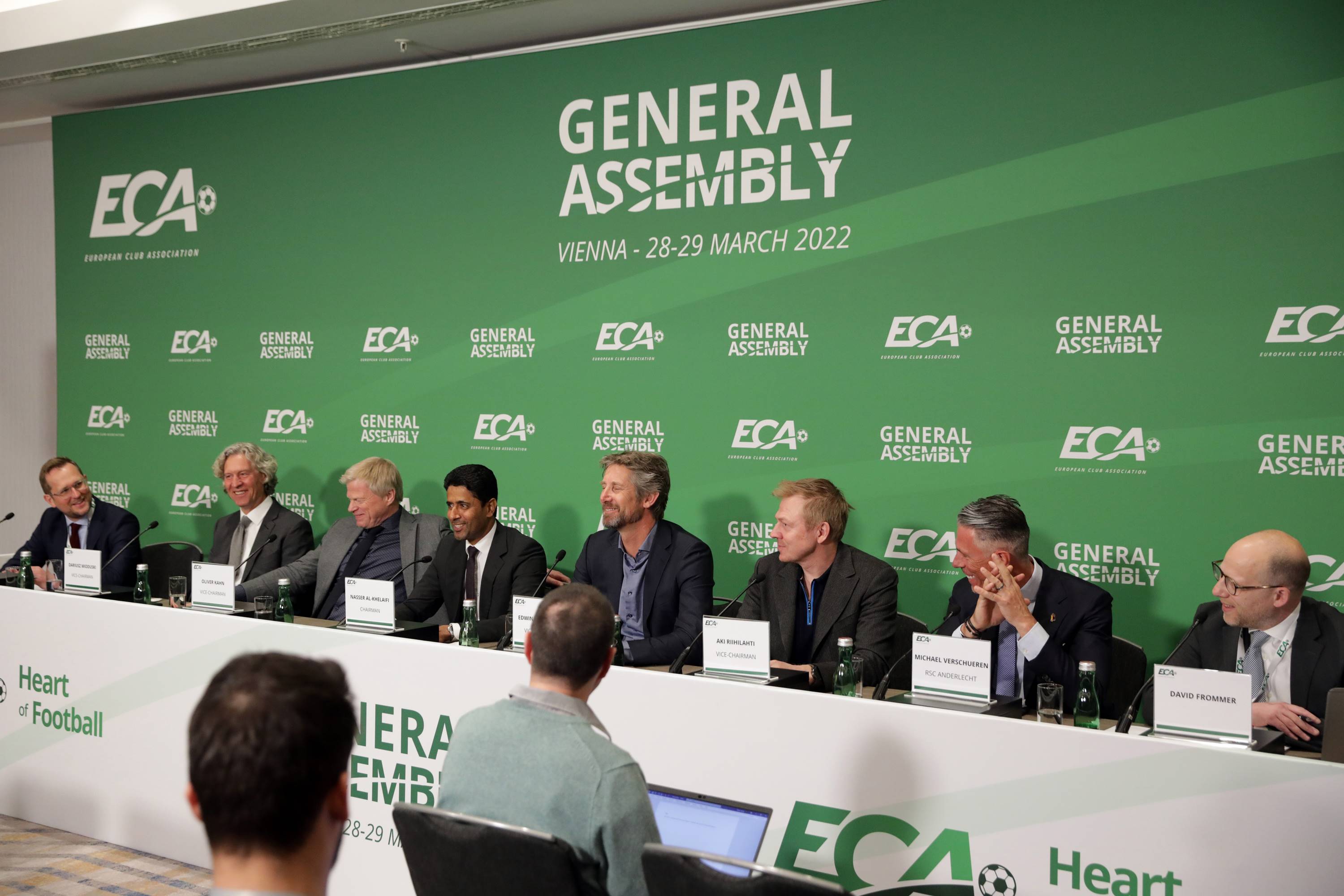 ECA members commit €1 million and other measures in support of Ukraine efforts
As the world continues to bear witness to the ongoing and tragic war in Ukraine, ECA members urged for peace, while also agreeing to make available an initial €1 million financial contribution to support member clubs' efforts in assisting the Ukrainian people. In addition, ECA commended its many ECA football clubs who are going to great lengths to find safe places for Ukrainian youth academy players. ECA remains committed to pursue all efforts, working alongside partners and stakeholders from across the football family, to support those impacted by this terrible situation.
ECA members provide ECA Board with green light on crucial policy matters
The General Assembly provided the setting to inform members on the state of progress around key policy matters. Following detailed presentations, members offered their endorsement around:
The modernisation of Financial Fair Play rules – which ECA has played a key role in defining – central to which will be the introduction of cost controls and greater emphasis around club sustainability.
UEFA and ECA's latest proposals for the men's UEFA Club Competitions format for the 2024-27 cycle, following the decision in April 2021 to introduce a new league format and increase access to the competitions to 36 teams each.
Shaping the commercial strategy for men's UEFA Club Competitions for the 2024-27 cycle, following the launch of the first ever competitive tender process to manage these rights, leading to the appointment of TEAM Marketing and Relevent Sports.
The need to shape a collaborative and inclusive approach when determining the future of the International Match Calendar (IMC), which puts player safety and both the men's and the women's professional club games' development at its centre.
Expanding ECA's services, networking and communications to a broader network of professional men's and women's clubs across Europe, including through (i) working on creating a new membership structure specifically for women's clubs; and (ii) piloting a new ECA Network category of membership which will see around 150 new clubs benefit from ECA's services, insights and networks.
High level political, industry and academic addresses made to ECA membership
The General Assembly also saw addresses made by a number of high-level personalities from football, and beyond, as ECA seeks to take on board the learnings and experiences from some influential leaders from the business, academic and public policy sectors. Keynote speeches and presentations were made by:
Aleksander Čeferin, UEFA President
Margaritis Schinas, European Commission Vice-President
Thomas Bach, IOC President
Claudia Plakolm, State Secretary in the Austrian Federal Chancellery
Peter Moore, Former ECA Board member and CEO of Liverpool FC, and now SVP at Unity
Hedvig Lindahl, Atletico de Madrid and Sweden goalkeeper
Professor Nour Kteily and Professor Thomas Graeber, Harvard Business School
Domingos Soares de Oliveira elected to ECA Executive Board
Elections were held to replace outgoing Executive Board members Miguel Moreira (SL Benfica). The outcome of the vote saw Ordinary Members from Sub-Division 2 elect Domingos Soares de Oliveira. He will take up his seat on the Board with immediate effect to see out the remainder of the current cycle until 2023.