ECA Insights speaks with Paul Rogers, Chief Strategy Officer at AS Roma, about how the Giallorossi are changing the way clubs engage with fans on social media.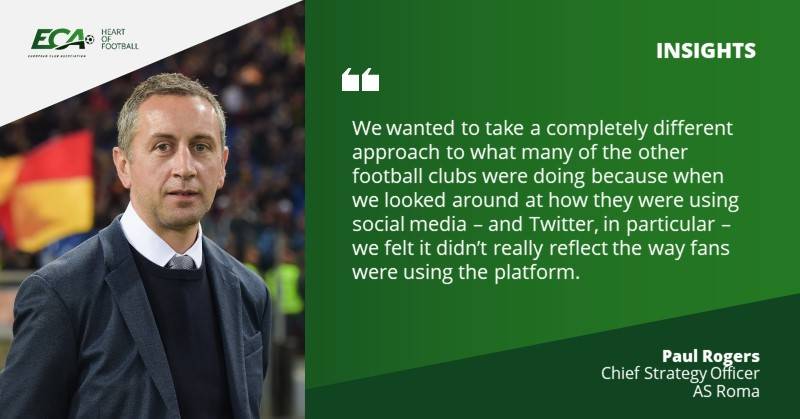 AS Roma's approach to social media is unique. The club is gaining legendary status within the community of engaged football fans on Twitter thanks to the creation of 'Roma Admin'. This is the name given to the character behind the AS Roma English-language Twitter account, which is receiving adoration usually associated with players and coaches, not social media managers.
Paul tells us how the club uses Twitter in a way that reflects how fans use the platform, an approach that has inspired other clubs across Europe and beyond to change their strategy.
ECA: Welcome to ECA Insights, Paul. How would you describe AS Roma's approach to social media and what triggered this change in strategy?
PR: "The club actually launched its English-language Twitter account five years ago this weekend, so it's a good time to look back on how it helped usher in a new way for clubs to communicate with fans.
Watch Roma Admin's five-year anniversary video 📺
"We wanted to take a completely different approach to what many of the other football clubs were doing because when we looked around at how they were using social media – and Twitter, in particular – we felt it didn't really reflect the way fans were using the platform. Lots of clubs seemed to be speaking at fans – using the platform to simply broadcast a very conservative and corporate message – and that wasn't an approach we wanted to replicate. To us, they came across as arrogant and aloof.
"We saw an opportunity through the account to present a much more human face of AS Roma to the world – and we did that in many different ways through the style of content we created, the tone of voice we adopted, the cultural references we included, the frequency of what we posted and how we interacted with followers. By introducing the concept of the 'Roma Admin' character, we were able to interact with followers and other clubs and accounts in a unique way – and that meant, we could differentiate between the voice of the club and the voice of the community manager. People felt they could personally relate to 'Roma Admin' in a way you can't really relate to an institution like a football club. We adopted the language of the platform, incorporated irony and self-deprecating humour into our content – something that football clubs had never really done before - and, really importantly, we embraced everyone – Roma fans, fans of other clubs and people who weren't even football supporters.
"Football Twitter can be a very toxic playground at times but we decided to engage with all of our followers – regardless of who they supported. We chose to leave the battles to the players on the pitch and instead tried to put a smile on people's faces with the content we posted. Football used to be about fun and escapism from work and life for so many people – so, to us, our approach was never really that strange. When I look around now, I see many clubs adopting a similar approach to what Roma, Bayern Munich USA and Bayer Leverkusen English started doing a few years ago. I think this is undoubtedly a good thing for both fans and football clubs on social media."
ECA: The reaction has obviously been positive with engagement levels through the roof. Is high engagement the target or is there a broader aim the club is trying to achieve with this?
PR: "I think a lot of people – so-called social media experts – always try to make things sound more complicated than they actually are. We simply do what we think is the right thing to do for AS Roma. We don't obsess about how many followers we have and we don't get hung up on engagement metrics. We obviously want a very engaged following – as an engaged following is a valuable following - but as soon as you start letting social media metrics dictate everything you do, you lose your way. If you post a picture of Messi or Ronaldo with a Goat emoji every day, your engagement will be sky high but are you behaving this way for your fans or for your end of month report for your boss?
"We'll quite often post content that we understand will be quite niche or that can challenge our audience when it would be easier and safer to stick to a more traditional diet of football news and pictures. All the things we have done – whether it was the incredibly bizarre transfer videos in 2017, the deliberately bad photoshop announcements a year later, an all-black video to announce a new signing in 2018, tweets about mental health, climate change, gender equality, the refugee crisis, anti-racism or the missing children campaign – were done because we believed in them and quite clearly, a lot of followers believed in them too.
"The fact that we now have 550,000 followers on our English-language Twitter account – which I believe makes the account the fourth most followed English-language Twitter account by a non-English club after Real Madrid, Barcelona and Juventus – is great because it gives us an even bigger platform to deliver messages that matter."
ECA: Why do you think this approach resonates so well with the modern-day football fan?

PR: "Football fans are human beings just like the people who work at football clubs. I sometimes think people at football clubs behave a certain way in their own personal lives and then expect fans to act in a completely different way, just because it suits the club's business model or objectives. Fans are not one-dimensional individuals who only think about our club 24 hours a day and I think in these very decisive times, the modern football fan expects more from their club than some soulless, robotic approach to communicating. People appreciate some emotion, some sign that the person behind the account is actually human. I think we are seeing young people, in particular, expecting more from the brands they choose to engage with and I'm proud that we've increasingly managed to use the platform we have at AS Roma for more than just self-promotion."
ECA: Many companies can be quite cautious in their approach as social media entails certain risks from a corporate communications perspective. Do you ever fear what the reaction might be to the club's content?
PR: "Football is all about opinions and whether we like it or not, if you work for a football club, everyone will have an opinion about the decisions you make. Whether you're the coach, the sporting director, the kit designer or the social media manager, what you do will be criticised and it's up to you how you react to that criticism. When we decided to do things very differently with Roma's English account, we agreed a long-term strategy that we believed in and were prepared to passionately defend. We knew we'd never do something to embarrass the club or do something that could be pinned up on the wall of the opposition dressing room. And while we knew that not all fans would immediately understand the approach we were going to take, we were confident that they'd join us on the journey. I can categorically state that we did not care what the traditional football newspaper reporters thought about what we were doing. They were absolutely not our target audience, so their opinion was of zero concern to us. We run the club's social media channels for the club, for our fans and for our followers – not for journalists.
"I can remember when we released a very strange video to announce the signing of Cengiz Under in 2017, the reaction was exactly as we expected. Some fans were like, 'What the f*** is this?' while many more understand what we'd done and the reference we were making to the awful YouTube 'Skills and Goals' videos that magically appear every time your club is linked with a virtually unknown foreign player. I think we shocked a lot of fans with that video and then we got stranger and stranger. Fans were like, 'We want more. This is our thing. Bring it on.' Once you start down that path, you end up with an all-black video a year later – which if I'm honest, I did get a call about from the club president to explain what we'd done. We made sure we had fun with what we were doing, as we wanted the audience to have fun too, but there was always a method to the madness and over time, we constantly adapted our approach – going from so-called 'savage' to socially responsible."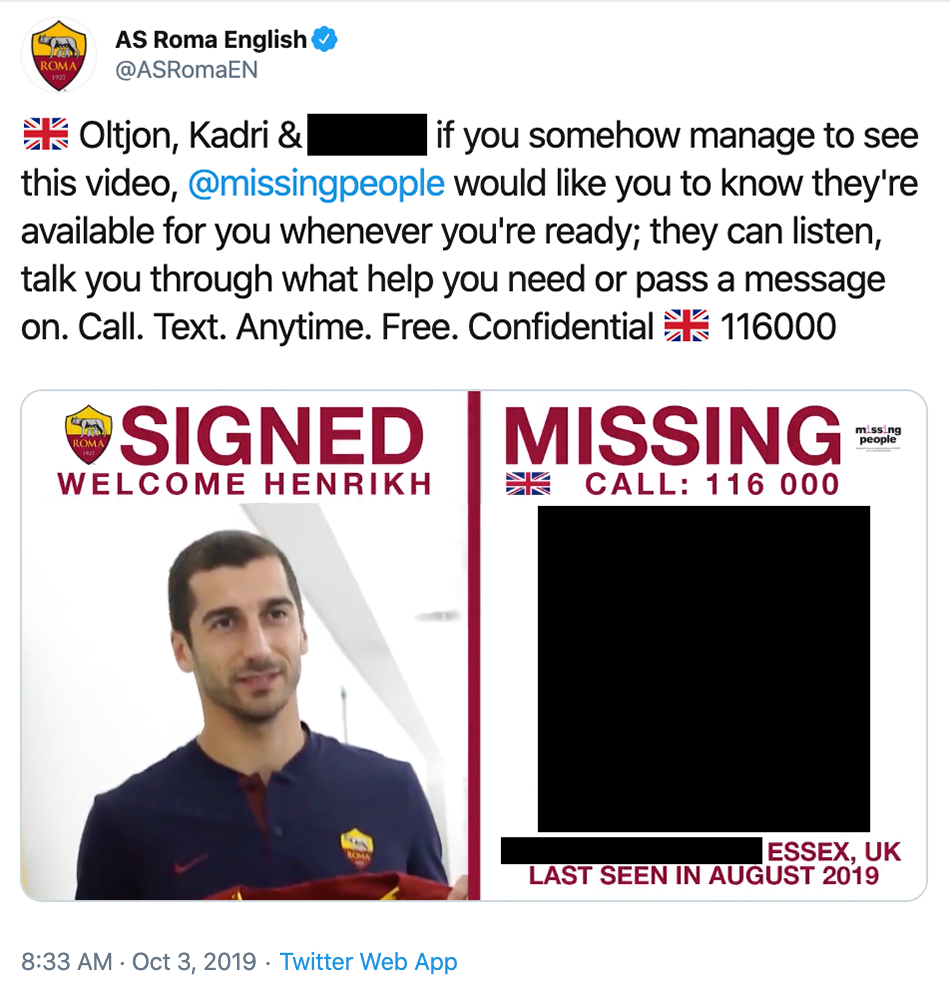 ECA: It's not all about funny GIFs and memes of course. During last summer's transfer window, the club introduced a missing children campaign, posting pictures of missing children in social media posts announcing new club signings. How do you see the opportunities for clubs' social media accounts to be used as a force for good? 
PR: "The idea for the missing children campaign actually came from reading an article about the video for the song 'Runaway Train' by the American band Soul Asylum. The song came out in 1993 or 1994 and I remember that the video, which was played on repeat on MTV and The Box, featured missing American teenagers. Only later did I find out that there were actually four different versions of the video released and depending on where you lived, you'd see the version most relevant to you. It was then that I found out that the British version of the video had featured a teenage boy from Liverpool who went missing in 1987 from a pub near where I lived. I found it really interesting that they were showing different videos to different audiences – but it was always the same song. There was no internet or social media around at the time, so MTV was the best way to reach a large teenage audience and the video achieved remarkable results.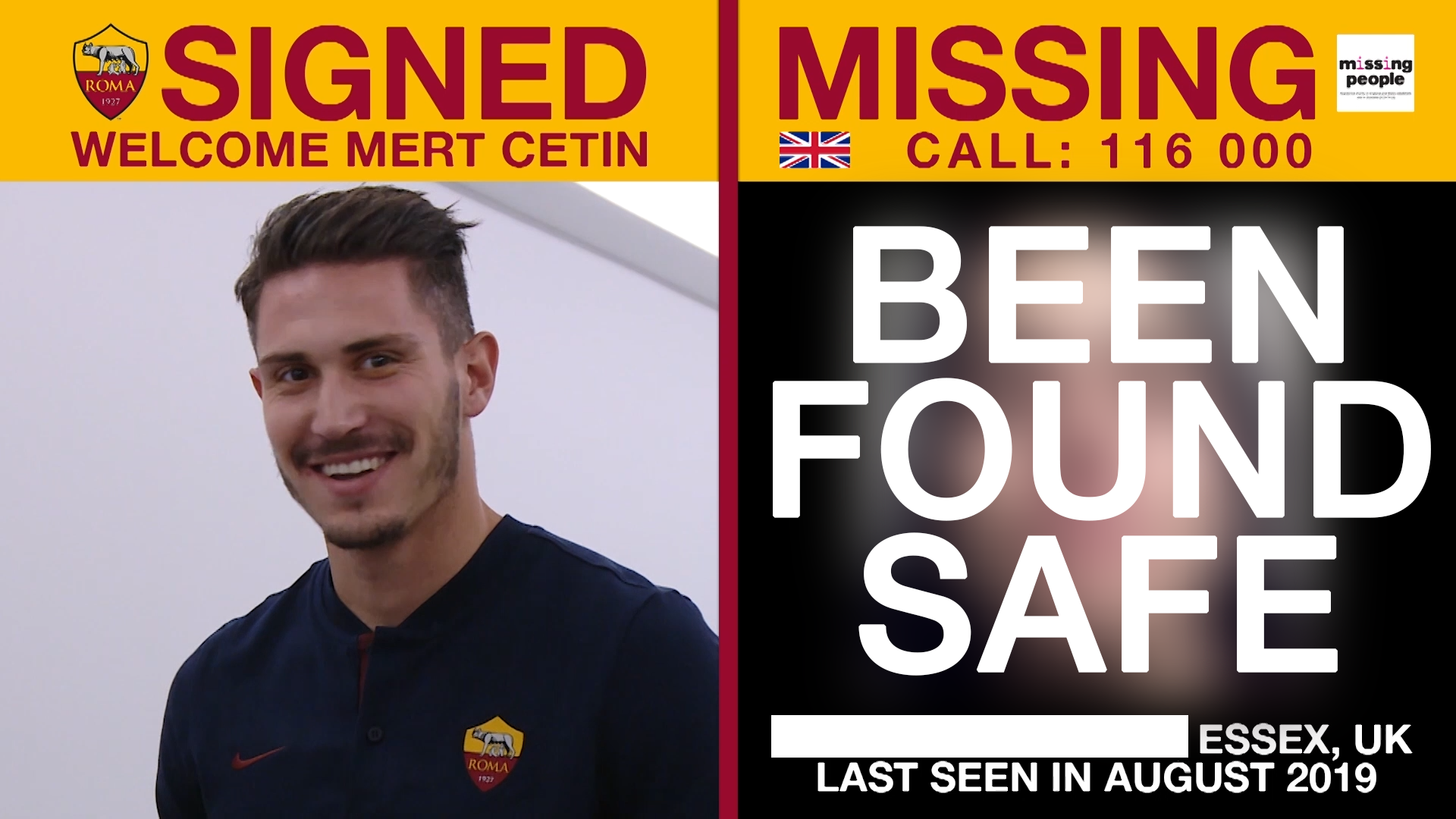 "I thought that with Roma, we could do something similar but for the social media generation and use much more sophisticated targeting to get the videos in front of the right people. We saw an opportunity to combine football, social media, missing children and the millions of people who follow football transfers on Twitter, Facebook and Instagram.  We wanted to use the viral nature of transfer announcements to expose these missing children cases to the biggest possible audience because it only takes one person to find a missing child. The fact that six children who've appeared in the AS Roma videos have since been found safe is quite incredible and it's something that our players and staff are really proud to support.
"In the coming weeks, we want to contact all of the clubs in the ECA to join us in supporting the International Centre for Missing and Exploited Children on May 25th 2020. That day is International Missing Child Day all over the world and we'd like all clubs to share a single video on social media that will highlight real missing children cases. We believe that with one Tweet by each club, the football world can unite for an incredibly important cause and show that we can all be united in helping to reunite some families with their lost children. If Juventus, Barcelona, Real Madrid, Arsenal, PSG, Ajax, Bayern Munich, AC Milan, Manchester United and all of the clubs within the ECA can support the International Centre for Missing Children initiative, the impact could be incredible."
ECA will join AS Roma in supporting its initiative around International Missing Child Day on 25 May 2020. More details on this will be communicated in the coming weeks.
***