On the occasion of the 19th ECA General Assembly in Geneva on 4th & 5th September, ECA  published the 7th Edition of the ECA Legal Bulletin.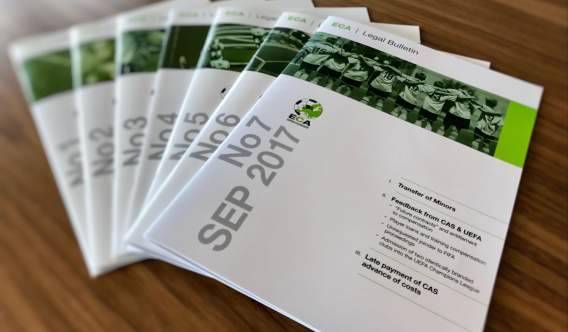 The first issue of the ECA Legal Bulletin was launched back in 2011 with the aim of providing ECA Member Clubs with practical information relating to the most important decisions and developments in the world of sports law.

As the football industry continues to develop, it is important for club lawyers to stay up-to-date with recent jurisprudence and procedural rules of the Court of Arbitration for Sport (CAS), UEFA and FIFA. The ECA Legal Bulletin provides practical answers to frequently asked questions on regulatory and legal matters.

Including case summaries of some of the most interesting decisions rendered by CAS during the 2016/17 season, the latest issue deals with, amongst other topics, issues related to international transfers of minor football players, a topic on which the ECA Legal Department receives many questions from ECA Member Clubs. 

For more information about the 7th Edition of the ECA Legal Bulletin, contact info@ecaeurope.com.