Karl-Heinz Rummenigge has today said goodbye to the members of the European Club Association (ECA). The 61-year-old led the ECA as chairman since its founding in 2008 and recently announced his intention not to stand for re-election.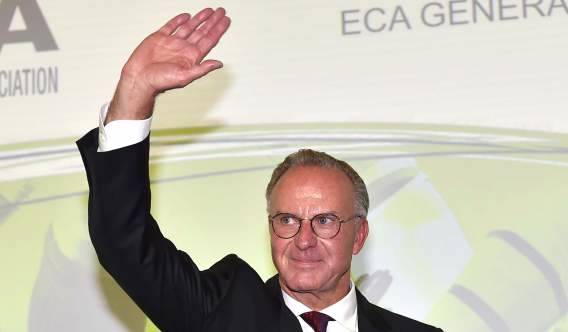 In his parting speech this Monday in Geneva, Rummenigge thanked the club representatives and colleagues for their confidence and support:

     "It was an honour to work with you. I think we've done the right thing," he said. "ECA has become a strong and fair partner for UEFA and FIFA. When we first started, we had visions. Today, we can proudly say that within a decade, ECA has achieved more than we dared to hope. And since nobody is given an office for life, I can leave this position with a good conscience."

Under the leadership of Rummenigge, the European clubs have become an influential stakeholder in football. The 230 ECA Member Clubs benefit from compensation payments and insurance coverage for the release of players to World Cup and UEFA EURO Championships. Since 2016, the ECA holds two seats on the UEFA Executive Committee, and jointly manages the marketing of the UEFA Champions League and Europa League with UEFA.

     "What makes me happy," said Rummenigge, "is the fact that over the past ten years we have never given up our sense of solidarity. The small ones understand the big ones, and the big ones bear responsibility for the small ones. The reform of the European club competitions has proven this again. Everyone will benefit from increased revenue, and we have increased solidarity payments by more than 40 percent from 199 million to 284 million euros. I am proud of that. "

FIFA President Gianni Infantino and UEFA President Aleksander Ceferin were also present for Rummenigge`s farewell. Rummenigge thanked both for their cooperation with ECA, but also reminded everyone of the former UEFA President Michel Platini, "to whom we owe so much." He was an important partner.

As much as he enjoyed shaping football on its economic and political side, he explained that: 

     "at the end of the day, I am mostly interested in what happens on the pitch. Finally, if I can make a wish to you all: Take good care of this wonderful game. We must protect it. "

Rummenigge, a former world-class player, is the Chairman of the Board at FC Bayern München since 2001.

On Tuesday, at the 19th General Assembly in Geneva, ECA will appoint Rummenigge's successor.