ECA is excited to announce that the ECA Awards are back and that 16 inspirational club projects have been shortlisted across the following four award categories:
ECA Social Impact Award 2021
ECA Women's Football Award 2021
ECA Youth Football Award 2021
ECA Corporate Partnership Award 2021
The ECA Awards were first introduced in 2010 and were held yearly until 2018. Following a short pause, the decision has been made to reintroduce the ECA Awards in its new shape and with new categories in 2021, with the clear aim of promoting and rewarding outstanding achievements from ECA Member Clubs which can serve as inspiration for the whole ECA membership and wider football community.
The winners will be announced during the 26th ECA General Assembly taking place on 6-7 September 2021 in Geneva, Switzerland. 
Find out more about each of the shortlisted projects:
ECA SOCIAL IMPACT AWARD 2021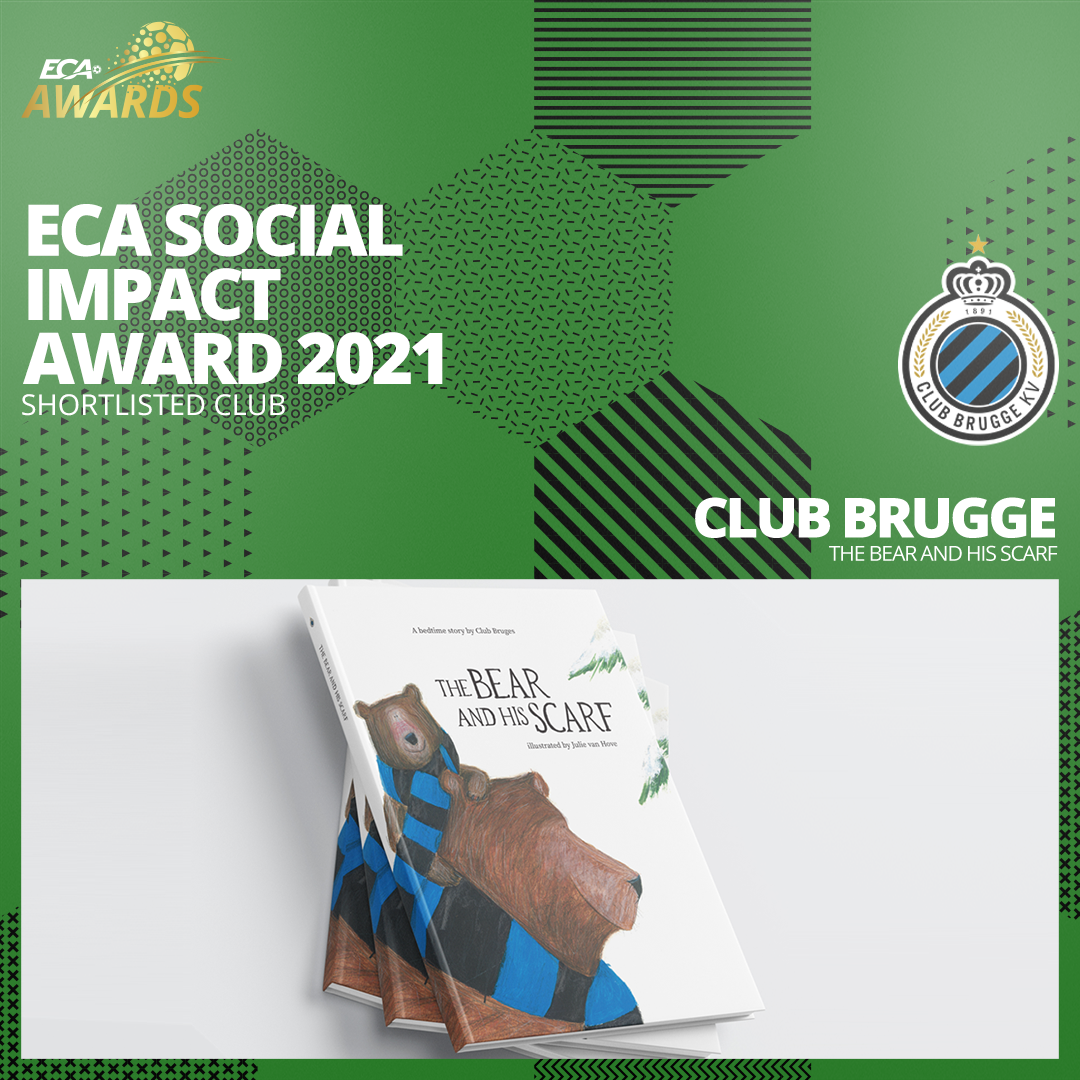 Club Brugge | The Bear and his Scarf
"The Bear and his Scarf is a children's bedtime story, that hopes to teach parents what loving your club means. It's a story about respect targeted at both kids and parents about the values and principles that we at Club Brugge hold high."
PROJECT OBJECTIVES: 
To send a strong signal against hooliganism, racism and any other form of disrespectful or discriminating behaviour to a not so receptive audience of the common chanting or shouting football fans, by letting them convey this message themselves, reading a story to their kids.
To use the social power of football to raise awareness on diversity in society and call out to other clubs and their fans to help us conveying this message.
To affect generations of fans by tackling discrimination in an effective way when they least expect it, at home, reading to their kids.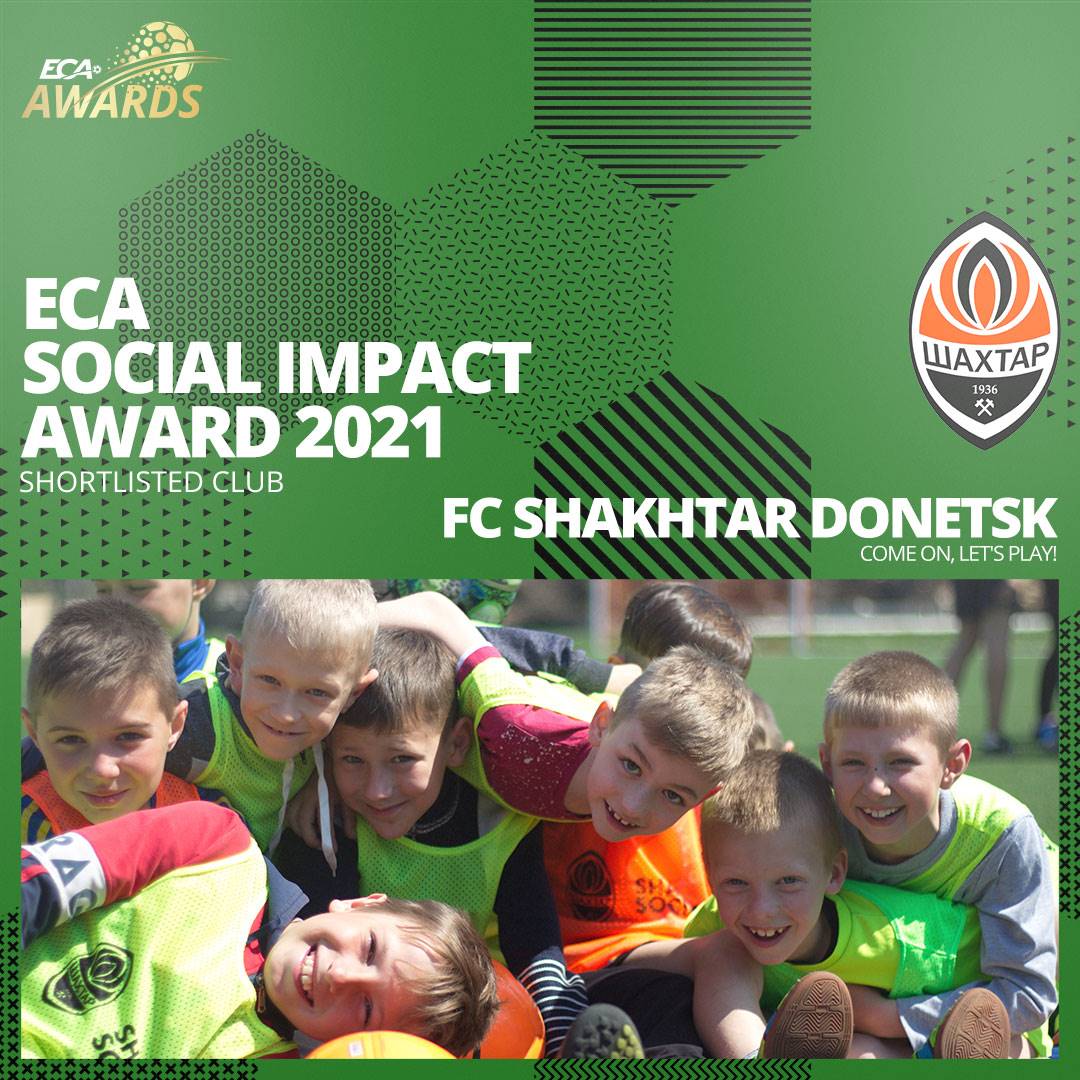 FC Shakhtar Donetsk | Come On, Let's Play!
"Come On, Let's Play! is the largest social football project in Ukraine aimed at developing kid's grassroots football in Ukraine. Its participants are boys and girls, including kids with disabilities."
PROJECT OBJECTIVES: 
To popularise football in Ukraine, social inclusion of children regardless of their sex, physical condition, skin colour, religion or ethnic background.

To create better conditions for the development of disability football in Ukraine, attracting as many participants as possible.

To develop girls' grassroots football in Ukraine, promotion of gender equality and elimination of gender stereotypes.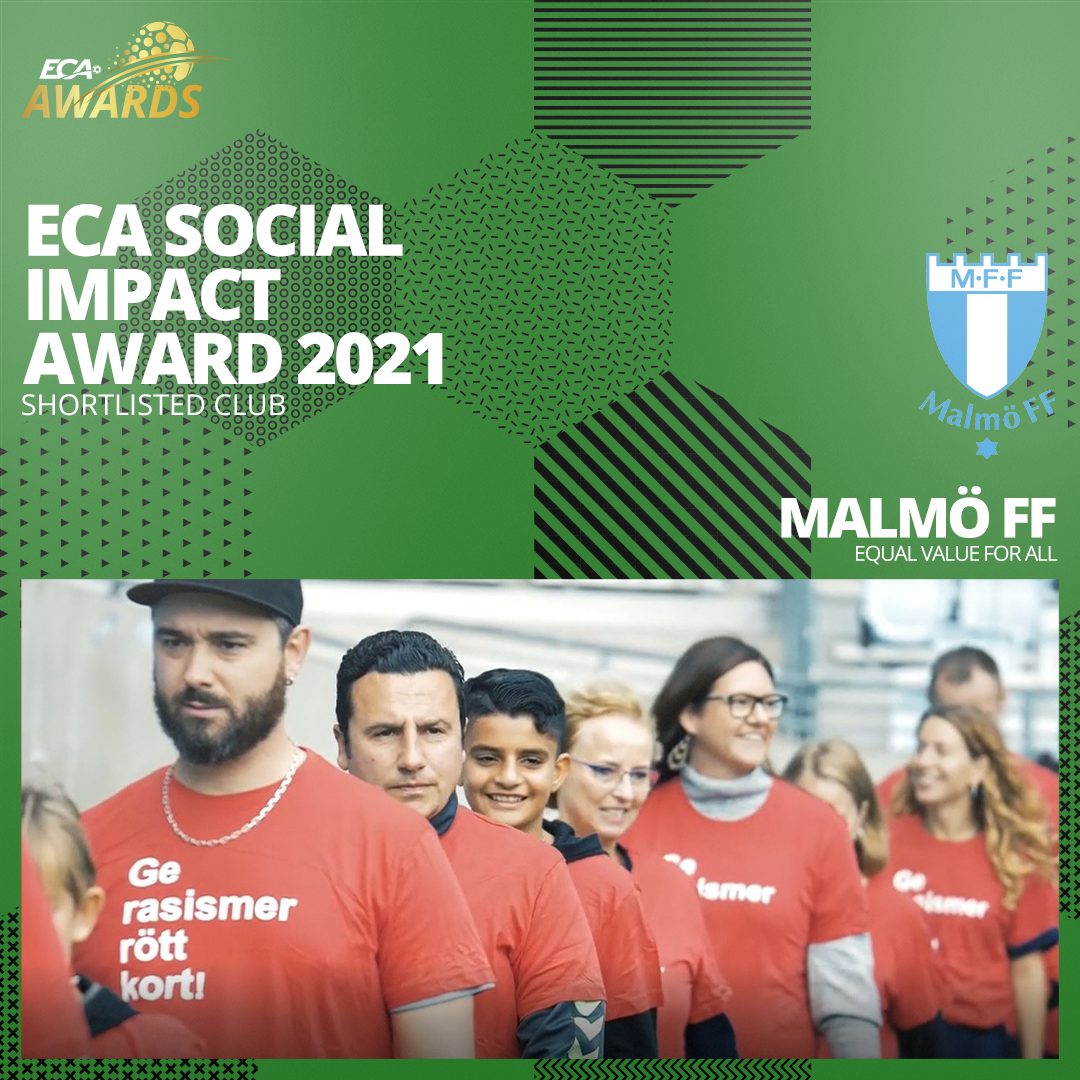 Malmö FF | Equal Value for All
"A unique concept that is now considered the largest human rights movement for children in Malmö's schools. The concept is looked upon as a very important tool to tackle racism and discrimination and the activities begin in the classrooms and end with a large manifestation against racism at Eleda Stadium."
PROJECT OBJECTIVES: 
The only anti-racism/antidiscrimination educational programme in Schools combining sport and human rights.

Working with human rights and children rights convention in a hands-on way.

Cross-sectorial collaboration between the club and the municipality.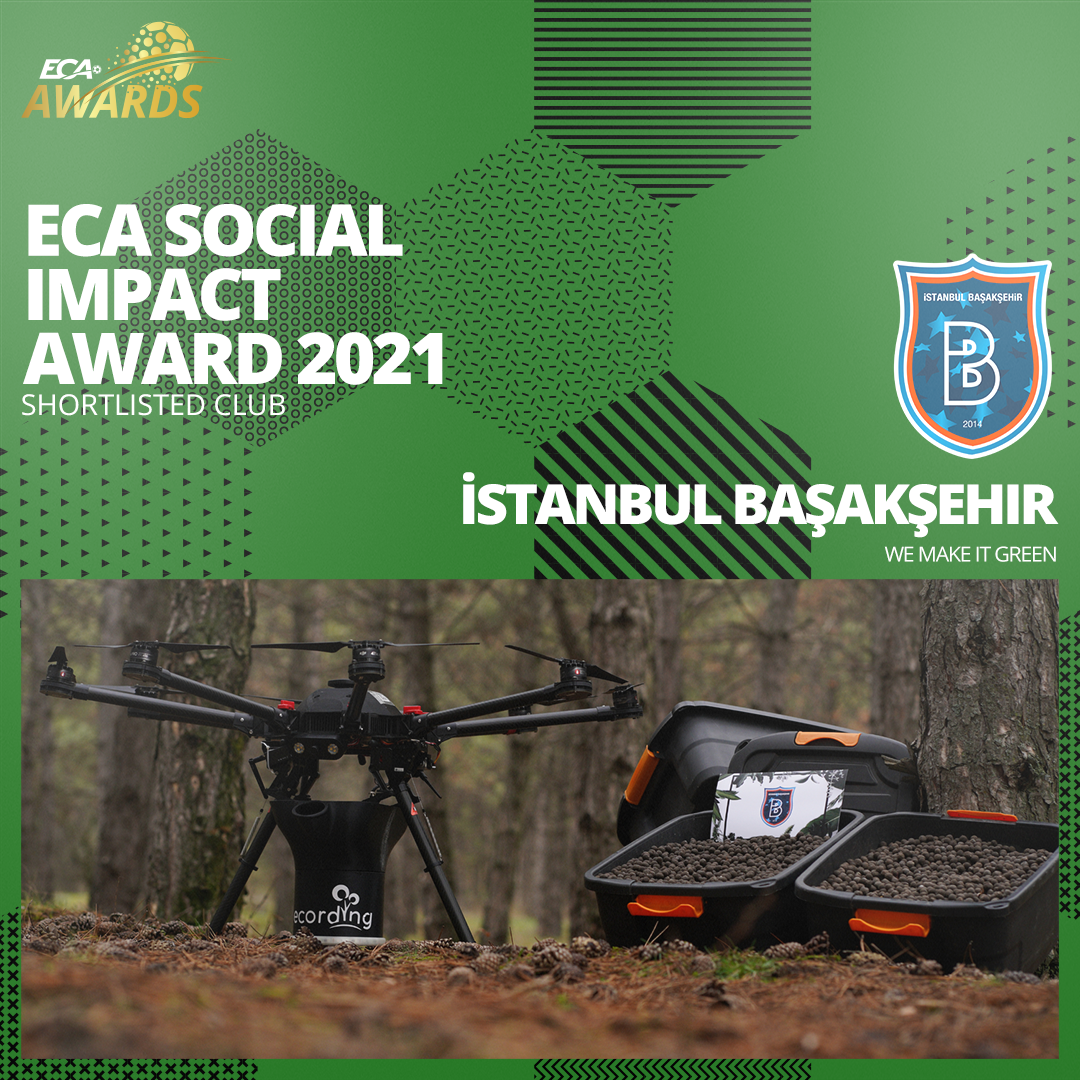 İstanbul Başakşehir |

We Make It Green
"With our green coloured 3rd kit in 2020-21 season, we pointed out the importance of forestation in the fight against global climate crisis and the increasing numbers of forest fires caused from it. In addition, we turned every green shirt that sold, into a tree in nature on behalf of the fans who bought it with the help of our Project partner, Ecording."
PROJECT OBJECTIVES: 
To point out the increasing numbers of forest fires and to highlight the importance of forestation against climate change.

To strengthen the Club's brand image and social ID among its fans and followers and to reach out to new audiences via a common purpose.

To keep promoting the smart solutions and innovation in fan engagement in football.
ECA WOMEN'S FOOTBALL AWARD 2021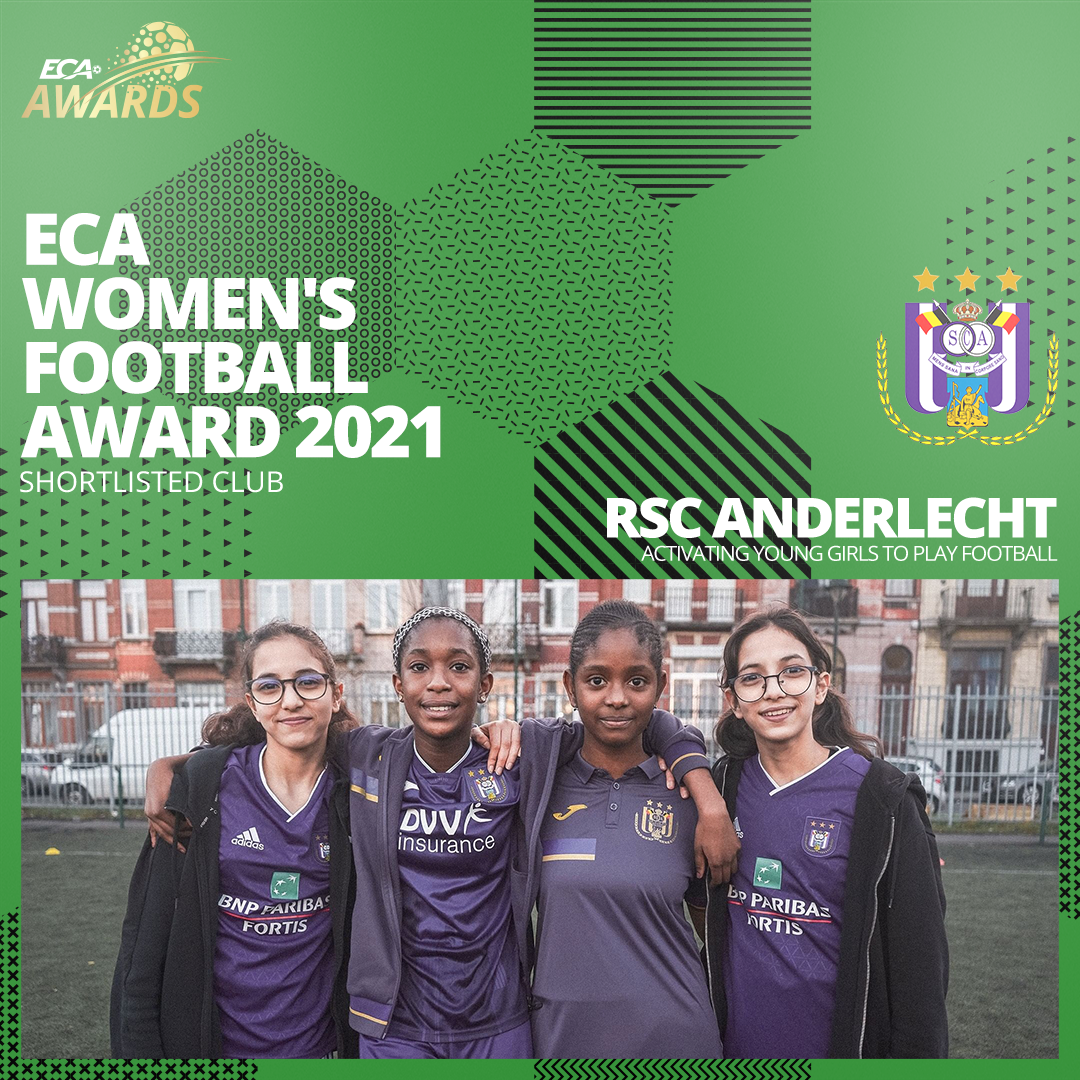 RSC Anderlecht |

Activating Young Girls to play football
"Since RSC Anderlecht believes in gender equality and therefore invests a lot of efforts and means in a competitive Women's football team (3 league titles in a row), we are constantly promoting women's football. We are also seeking for new talent and club ambassadors. We therefore invest in partnerships with the local community to enhance young girls to play football. "Brussels Football", the association of the 50 amateur clubs of the Brussels region, created dedicated 100% girls football academies. 12 clubs decided to participate. RSC Anderlecht is the main partner of these academies."
PROJECT OBJECTIVES: 
To motivate a maximum of young girls (as from 5 years to 13 years old) of Brussels to play football.

To connect with the local community (make new fans) and to promote football as a binder of our very eclectic community.

To detect young talent from our community and act as a positive role model in our diverse community.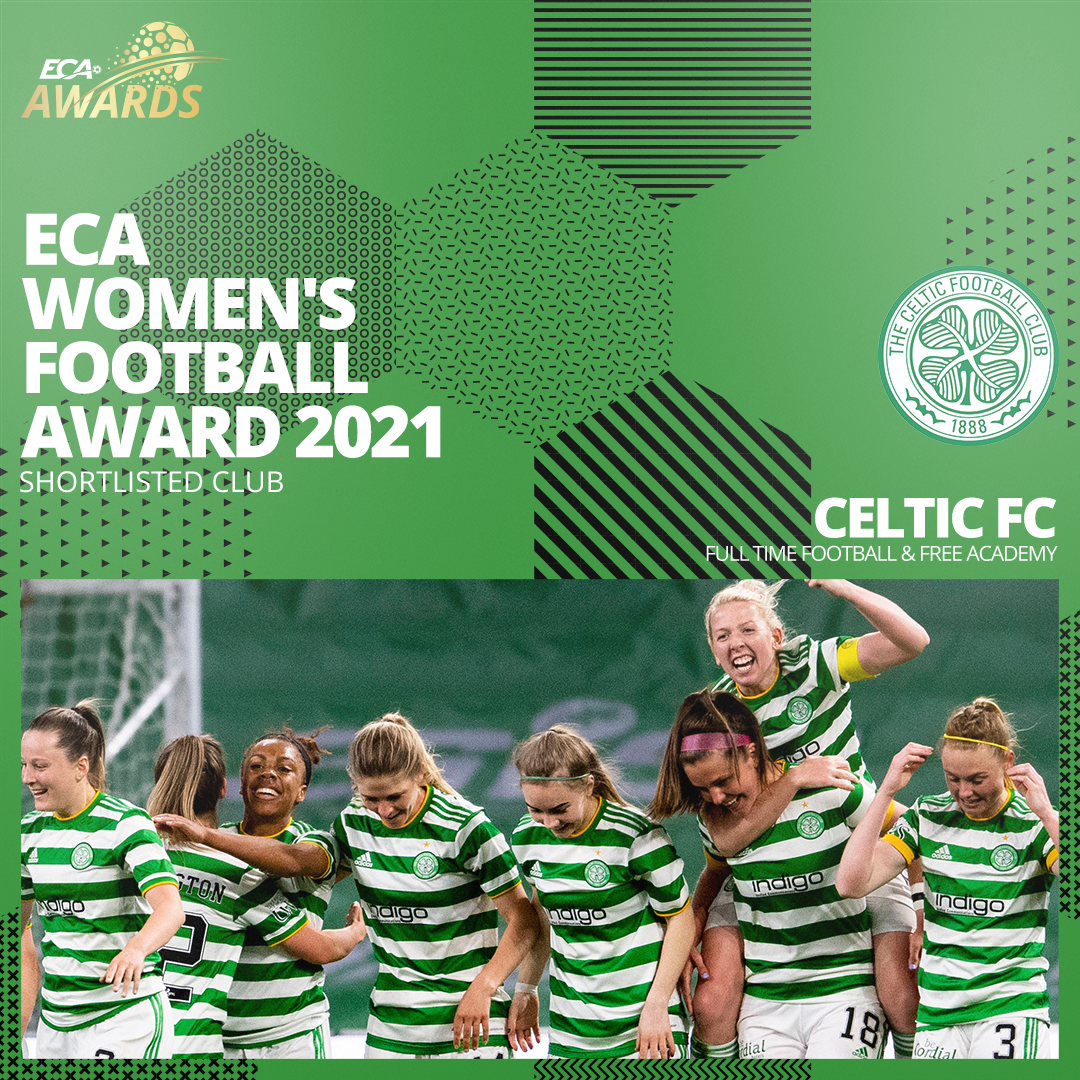 Celtic FC |

Full Time Football & Free Academy
"Women's football in Scotland has traditionally been an amateur game with girls in Acadamies paying fees to be coached. Those who wanted a career had to leave Scotland to play in other countries. Our objective was to turn professional and create pathways for young girls to be able to play for free and turn professional where they would have time to mature before going on to play on a bigger stage in another country. We wanted to change the perception of women's football and women's sport in Scotland to show that full time professional sportswomen was a career choice."
PROJECT OBJECTIVES: 
To turn the women's first team professional, creating pathways and opportunities for young women in Scotland.

To remove all fees for young girls in our Academy and change to culture from pay to play to elite pathway to a future career in football.

To raise the profile of women's football in Scotland and change perception of professional women's sport creating role models for young girls to aspire to.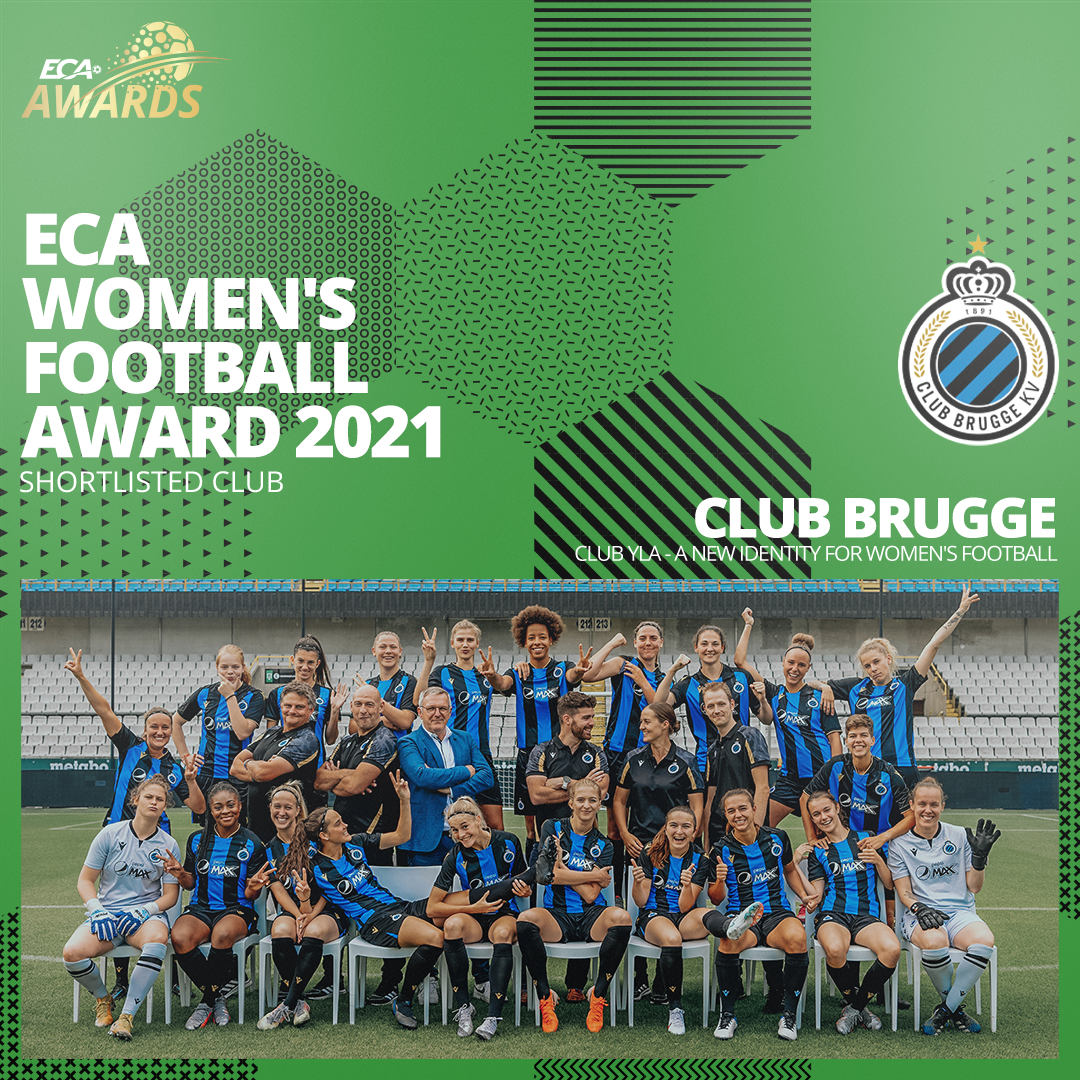 Club Brugge |

Club YLA - a new identity for women's football
"Despite its success on the pitch, the female representatives of the blue & black colours were not able to step out of the massive shadow of the successful men's team. That is why Club Brugge decided to create a new identity for its women's team and rename it 'Club YLA'."
PROJECT OBJECTIVES: 
To create a remarkable own identity for women's football, centred around a particular and local historical link to strong women in Club Brugge's history, honouring equality between men and women in today's society.

To develop a modern fresh lifestyle brand with a bold contemporay attitude, that stands out by being different and attracts young female football players.

To reach new fans on social media and become more attractive to potential sponsors.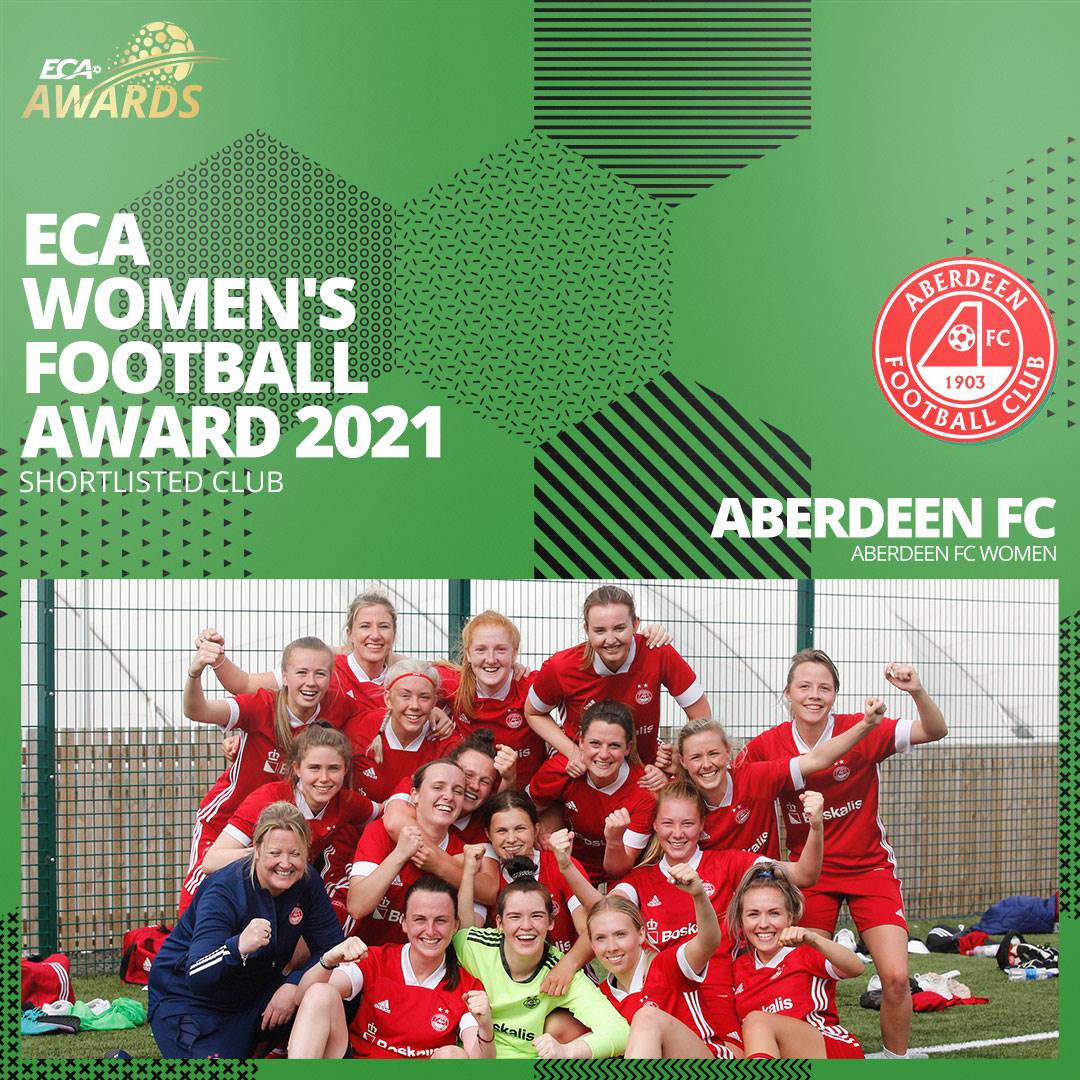 Aberdeen FC |

Aberdeen FC Women 
"With the backing of headline sponsor, Boskalis, the Club has the ability to develop more girls and women in football, encouraging those with a passion to play professionally, whilst also making football as diverse and inclusive as possible. The ambition to progress further has been aided by the opening of the new state-of-the-art Community Hub, Professional Training Campus and Youth Academy, which enhanced the existing high-performance environment, with supporting sports science experts, access to AFC video analysis, physiotherapy, nutrition and medical infrastructure."
PROJECT OBJECTIVES: 
To be leading developers of women's football in Scotland and ensure a development pathway for young, talented women in the region.

To make football as diverse and inclusive as possible and develop more girls and women in football, encouraging those with a passion to play.

To develop young players as individuals and as a team, and produce a winning team.
ECA YOUTH FOOTBALL AWARD 2021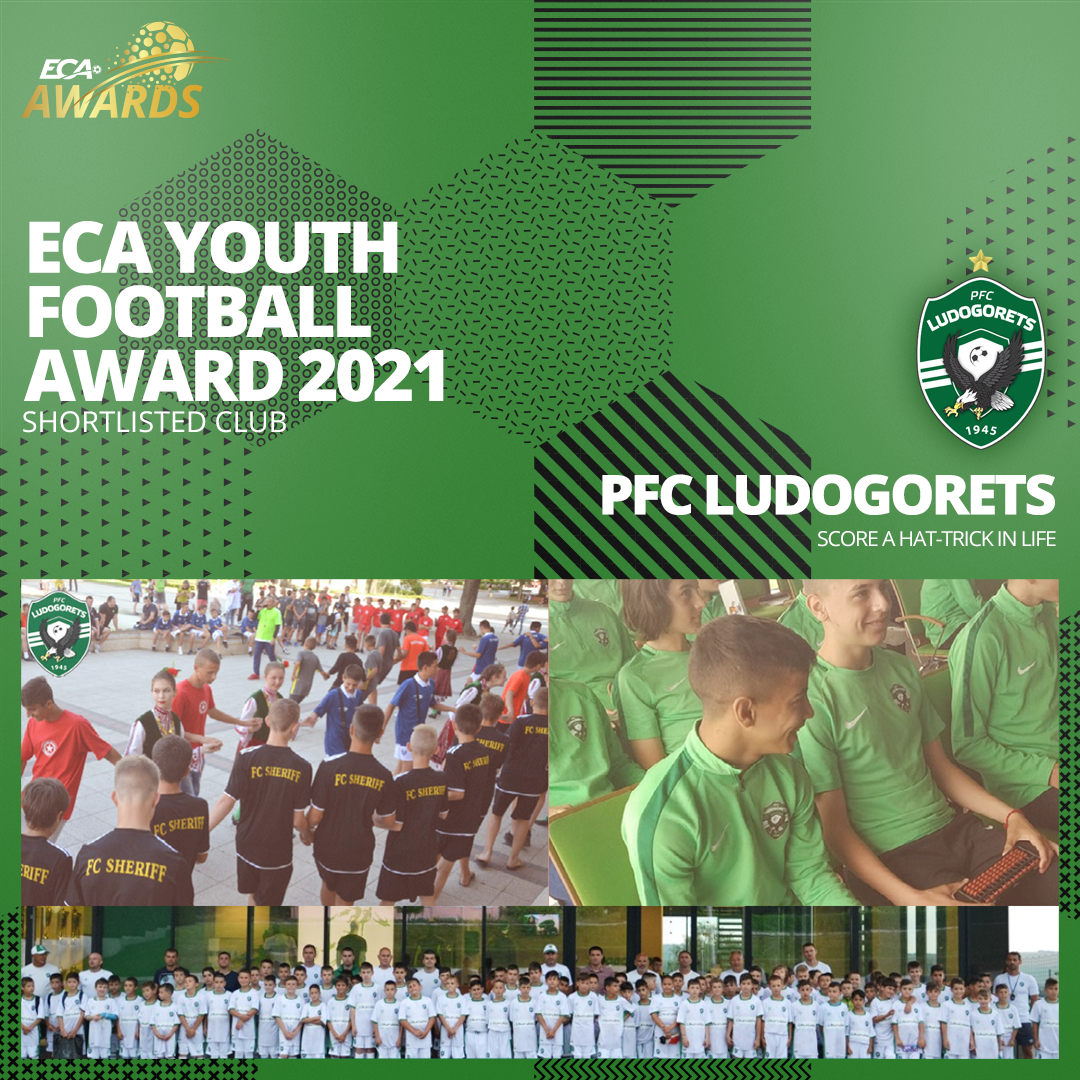 PFC Ludogorets 1945 |

Score a Hat-trick in Life
"Since the start of the academy the goal of the Club is to provide the best conditions for the youngsters to grow up as successful persons. The creation of useful habits in each aspect in life such as healthy eating, fruitful learning, leadership, discipline, confidence etc. is a part of that philosophy. By building more complex abilities the young players are obtaining bigger perspectives in future life. The reaching of all these goals is equal to Score a Hat-trick in Life."
PROJECT OBJECTIVES: 
Multicultural activities - the Club organises international tournaments for kids and special multicultural events each year; different interactive activities, meeting the Bulgarian traditions via visiting historical museums, dancing traditional folk dances from different countries, cooking etc.

Healthy knowledge - lectures and special programmes are given by the doctor of the academy on healthy eating, improve quality of sleep and active way of life.

Education Upgrade - instant stimulation for new knowledge by innovative educational methods like mental arithmetics, robots, access to digital workbooks. Kids are getting experienced in interviews and are working with psychologist for improving their emotional intelligence.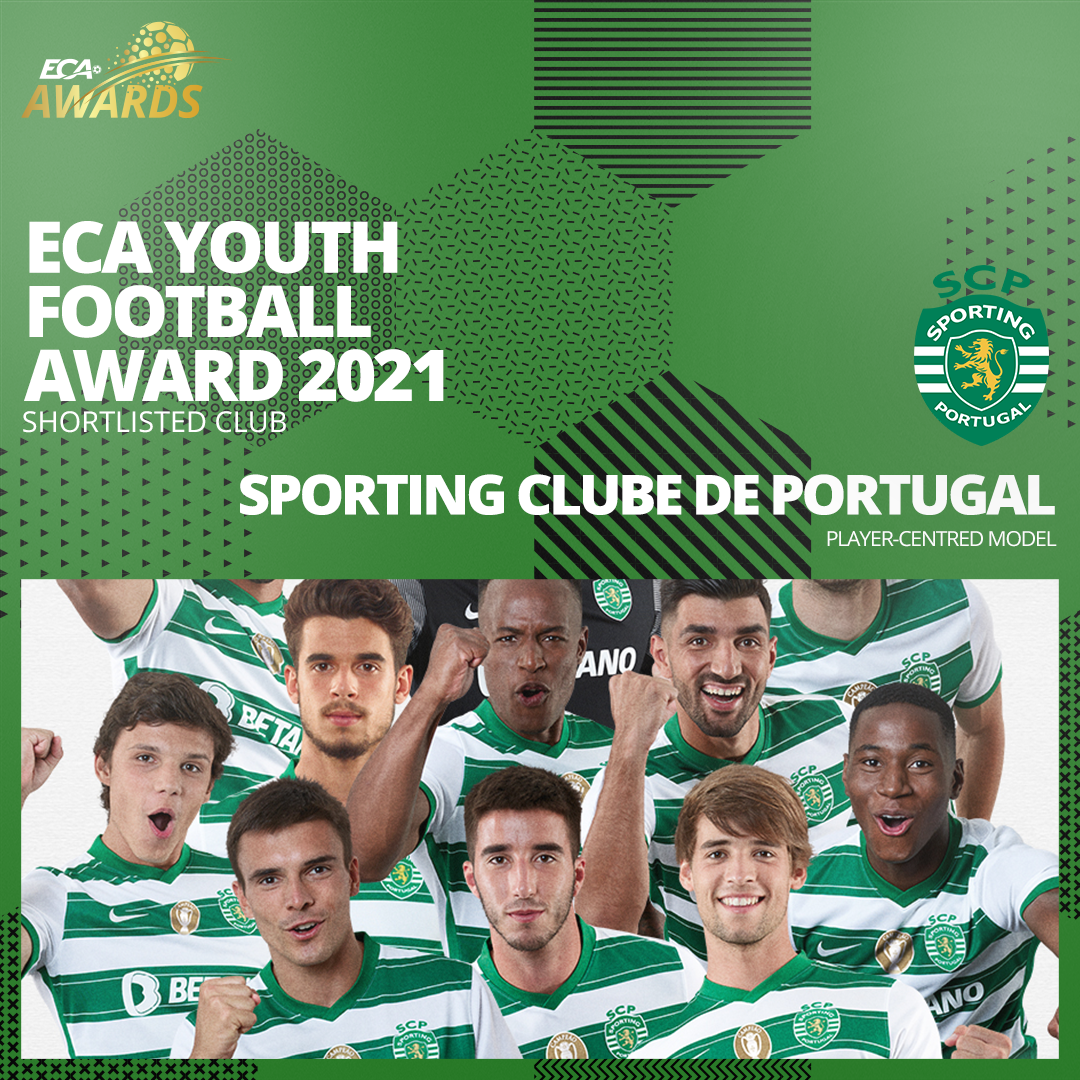 Sporting Clube de Portugal |

Player-Centred Model 
"The "Player-Centred Model" (PCM) focuses on a 360º development of the player through the introduction of a multidisciplinary approach by innovating and integrating all technical, tactical, scientific, and technological as well as other areas together."
PROJECT OBJECTIVES: 
To identify players with Sporting defined "profile", (i.e., with a set of physical, mental, and technical qualities that, according to our criteria, can reach elite performance levels) – Scouting Unit.

To create individual development plans through individualised educational, psychological, technical, physical and adaptability (to competitive landscape) programs.

To develop a strong pedagogical/educational program to support and incentivise academy athletes to embrace the Sporting success together with achieving basic literacy standards and school qualifications (Dual Career) – Pedagogical Unit.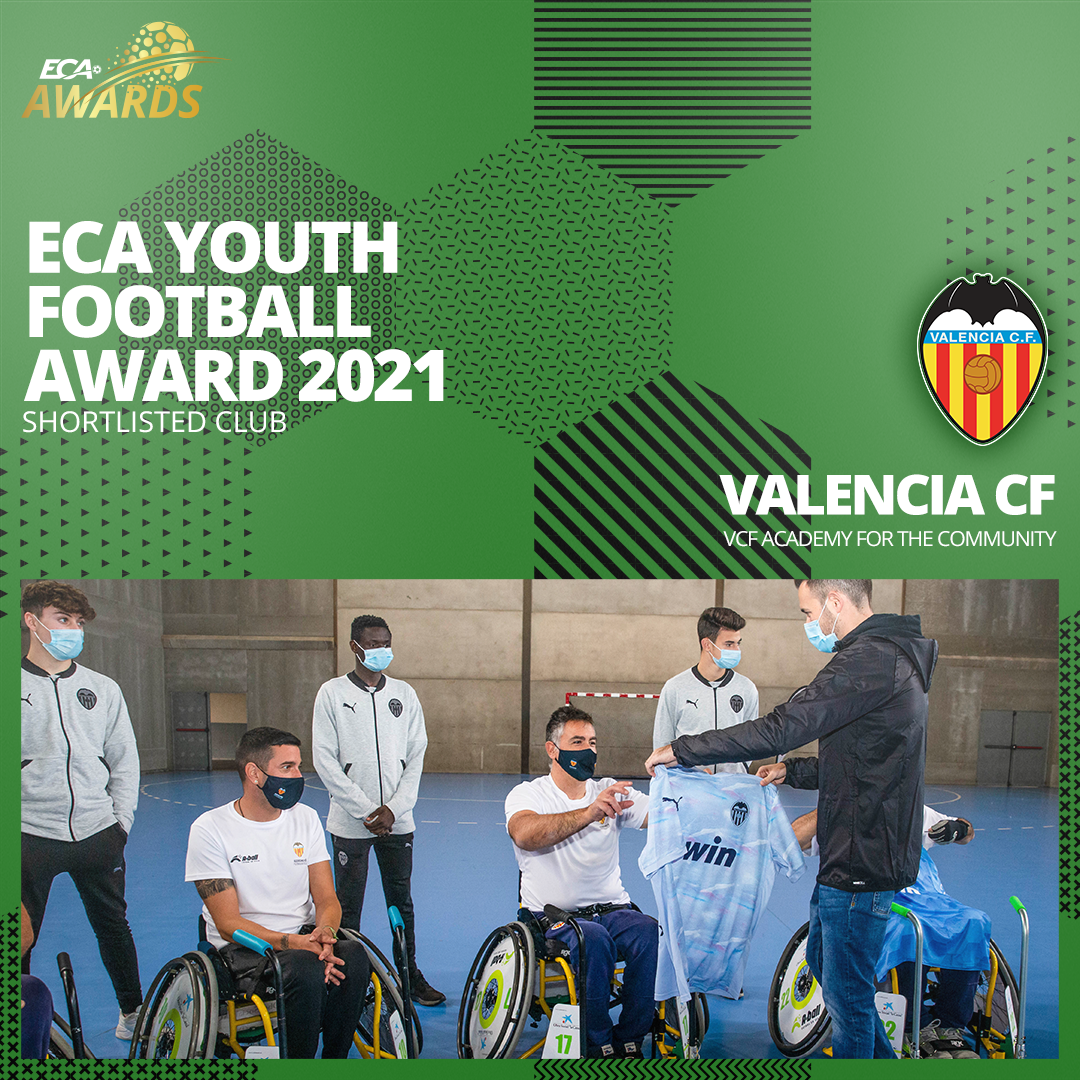 Valencia CF |

VCF Academy for the Community
""We educate people and train footballers" is the VCF Academy motto, and instilling values in the young talents at the club is one of the aims of the #AcademiaEnComunidad project. In it, a series of social actions will be undertaken involving the VCF Academy teams, in collaboration with the VCF Foundation and different entities around the Valencia region."
PROJECT OBJECTIVES:
To demonstrate exemplary efforts in developing our academy not only from a sporting, but also from an educational perspective.

To focus on the overall development of youth players and to improve the education of players, helping them to be prepared for their future career, whether it is on or off the pitch.

To increase the VCF efforts to help and raise awareness in the community.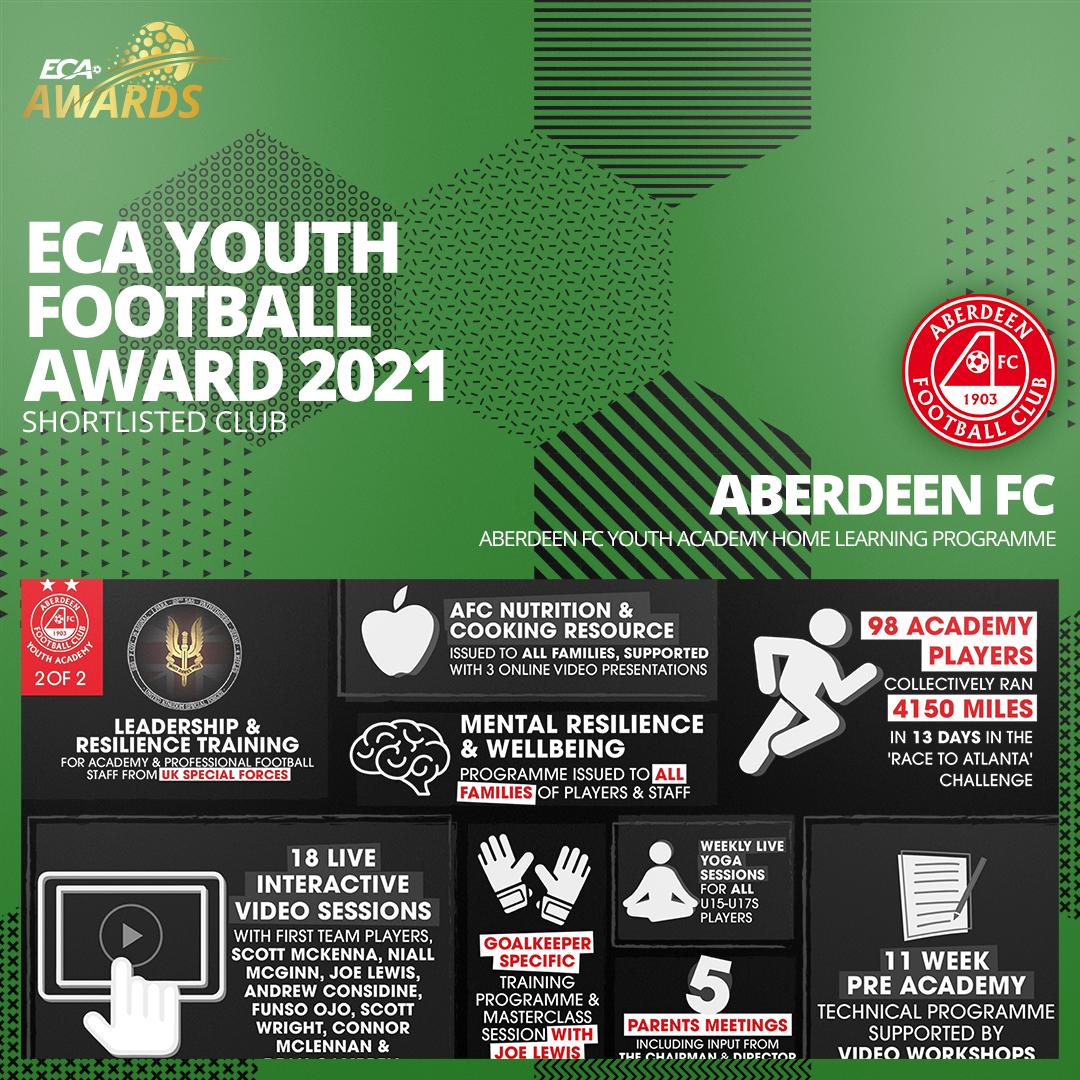 ABERDEEN FC |

Aberdeen FC Youth Academy Home Learning Programme
"When training and matches were first postponed the AFC Youth Academy coaches took to social media releasing homework videos to encourage as many young people as they could to get out there and develop their football skills further. During the first lockdown the AFC Youth Academy rolled out a 16-week home learning programme that focused on tactical and technical practices as well as skills to improve them off the football field. The second lockdown saw the young players concentrate on self-improvement which aimed to develop better thinkers and movers. The home learning programme concentrated on various elements including education, technical ability and sports science as well as coach development for the staff."
PROJECT OBJECTIVES: 
To look after the wellbeing of each player and their family and ensure they maintained contact with coaches during lockdown.

Every player to experience and develop a true understanding of focused practice and self-improvement in both sport and life.

To introduce, develop and master fundamental technical skills in a progressive and measurable way.
ECA CORPORATE PARTNERSHIP AWARD 2021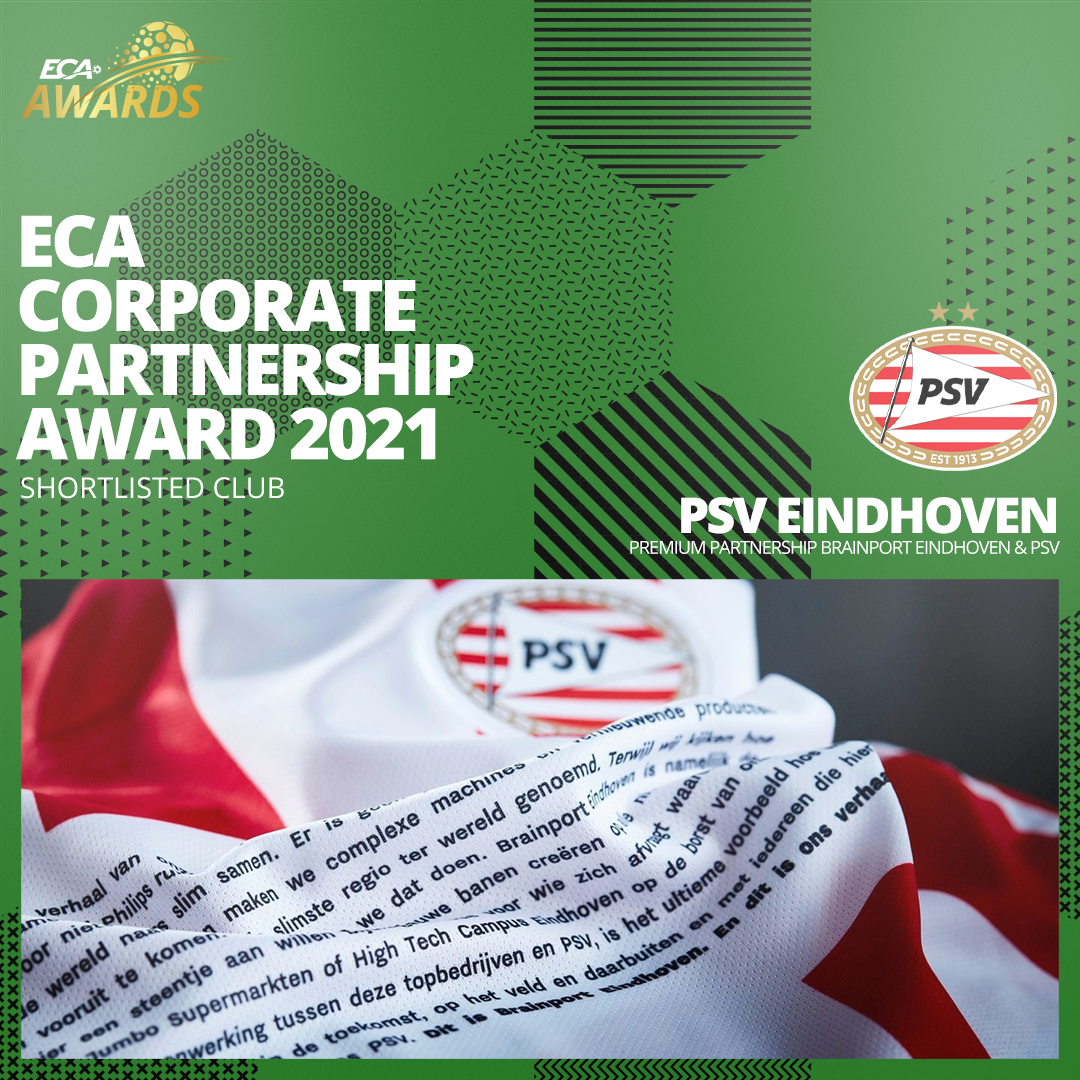 PSV Eindhoven | Premium partnership Brainport Eindhoven & PSV 
"Brainport Eindhoven & PSV is a strategic collaboration of internationally acclaimed top companies in Brainport Eindhoven who share the ambition to put the Eindhoven region on the map and increase brand awareness."
PROJECT OBJECTIVES: 
Brand and exposure for Brainport Eindhoven: increase brand awareness, strengthen the national as well as international reputation of the region, help to create a sense of pride to be part of it.

Recruitment of talent in Brainport Eindhoven: fill vacancies quickly and suitably, attract and retain talent for Brainport Eindhoven.

To increase the energy and vitality of 55,000 employees of the Brainport partners and the 770,000 inhabitants of Brainport Eindhoven.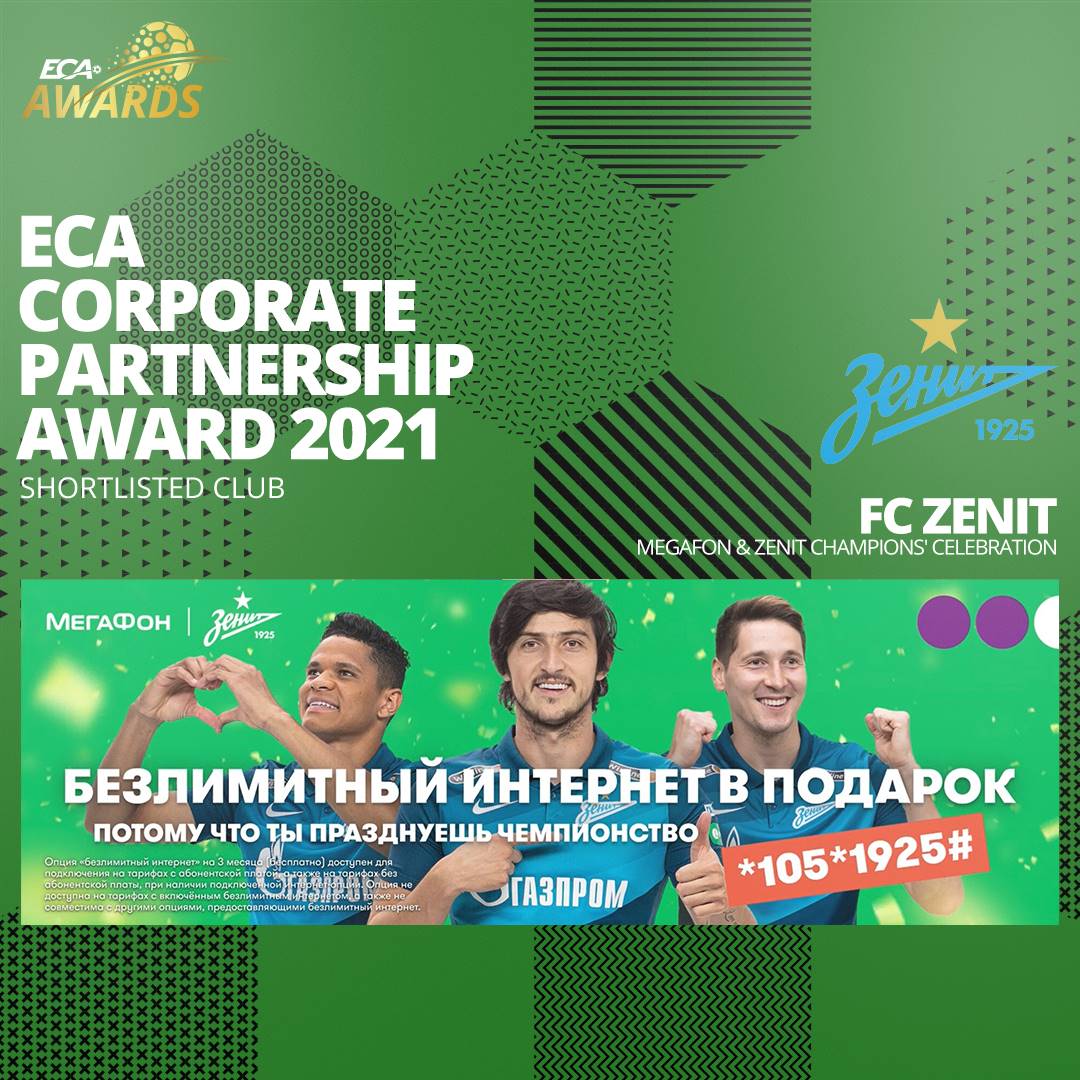 FC Zenit |

MegaFon & Zenit Champions' Celebration
"MegaFon and Zenit prepared some bonuses for the fans to make the Champion's day even more special! The brand launched immediately after the final whistle initiatives incl. Unlimited Internet access for the clients to celebrate the victory of their favourite Club; Opportunity to change the operator name at the mobile screen from "MegaFon" to "MegaFon Zenit #1, Chatbot in Social media, where users received players champions' cards with autographs; Branded live-streaming from the stadium and advertising digital boards around the city."
PROJECT OBJECTIVES: 
To increase the level of NPS.

To increase the loyalty of the fans to the brand.

To promote the Unlimited Internet.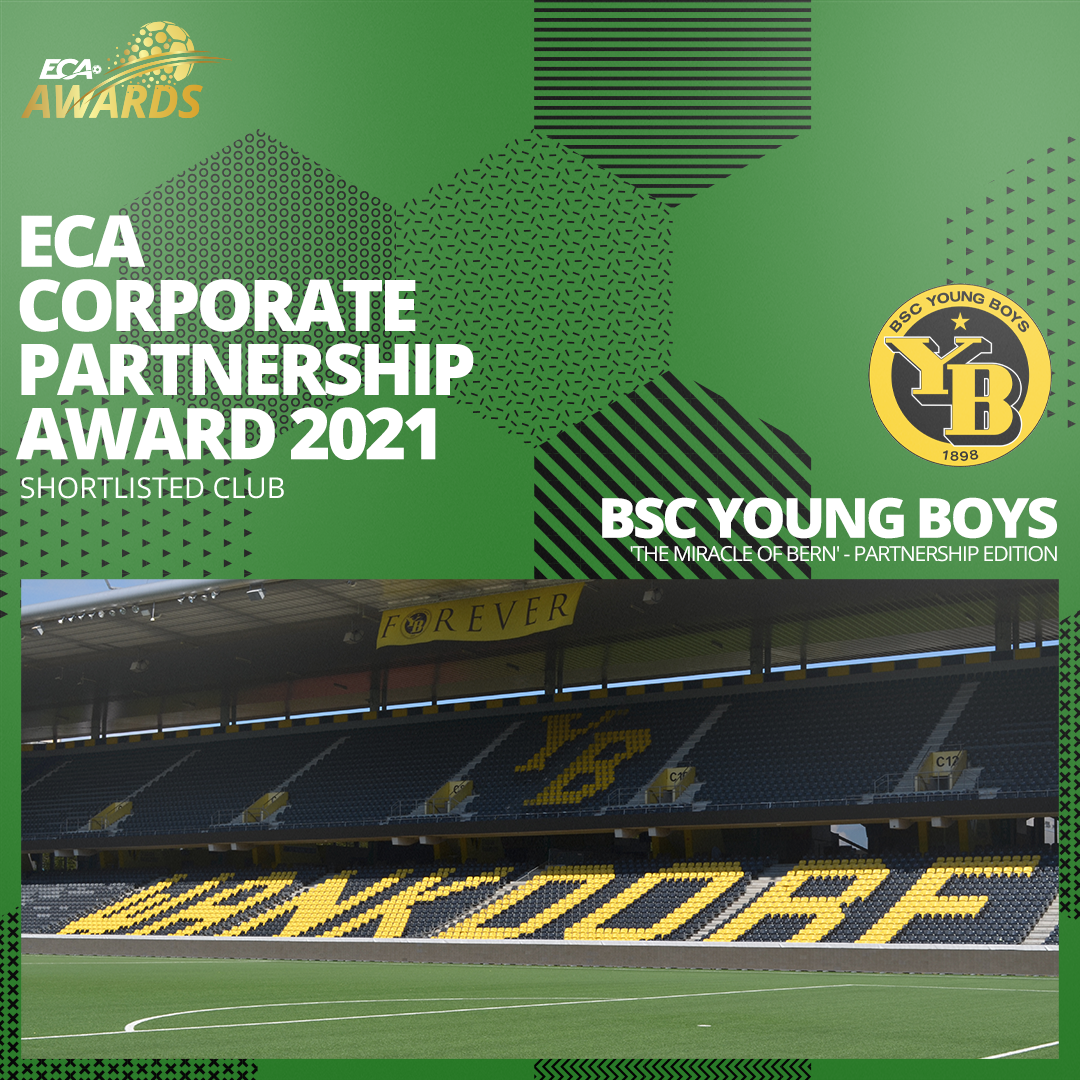 BSC Young Boys |

'The Miracle of Bern' - Partnership Edition
"The 'Wankdorf' name – named after the Swiss capital's Wankdorf neighbourhood – was very popular among the locals; a petition for a name change in 2004 even gathered more than 10,000 signatures. By the new stadium partnership deal with the CSL Behring, BSC YB not only was able to sign an annual seven-figure fee for the sponsorship but also to rename the venue back to Stadium Wankdorf."
PROJECT OBJECTIVES: 
To bring the already well established and long-standing collaboration between CSL Behring and BSC YB to a next level by signing as new Stadium Partner.

To sign a new partnership with a strong partner and further generate essential cash flow in economical difficult times.

To bring back the traditional name Wankdorf to the hearts of the fans and the Swiss people.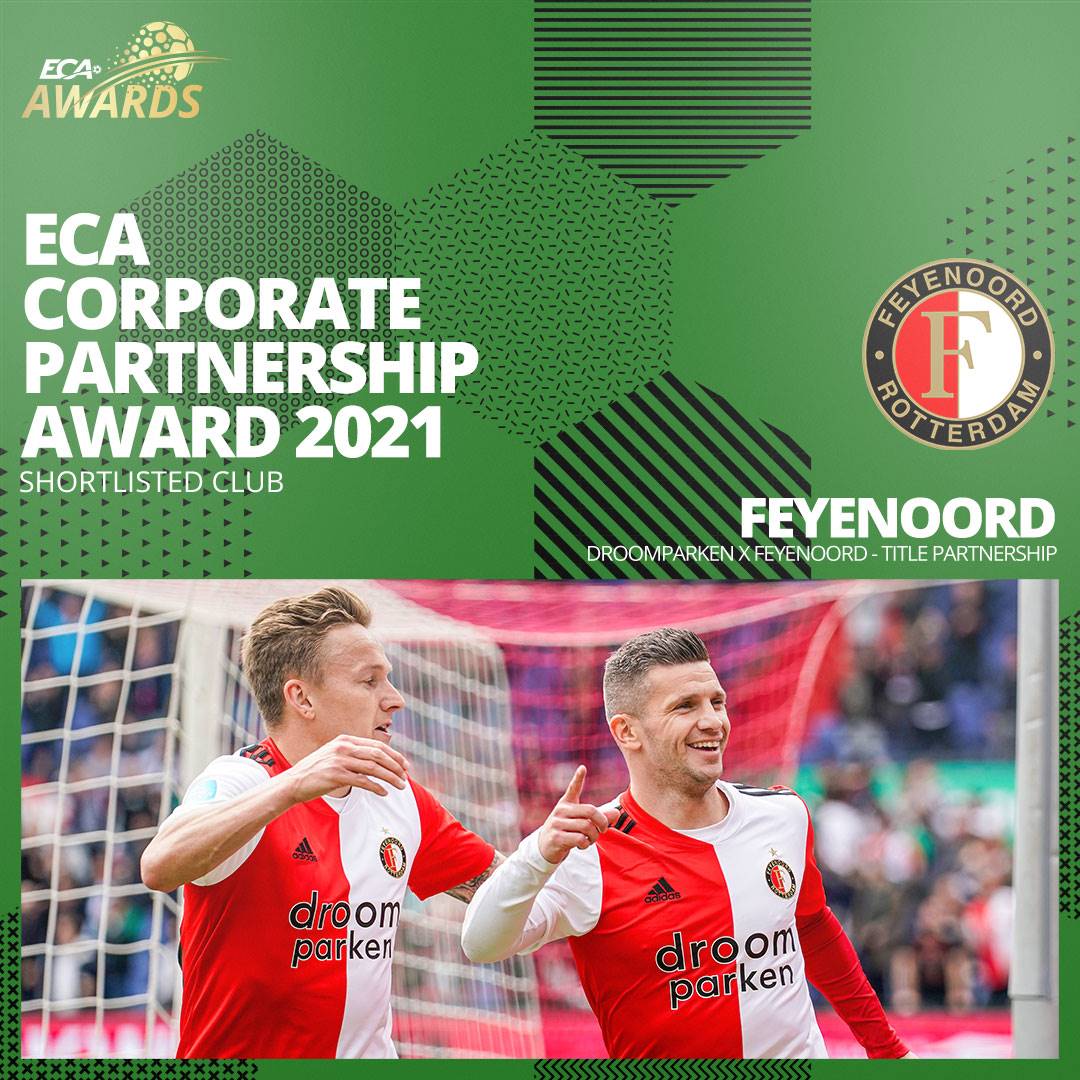 Feyenoord | Droomparken x Feyenoord - Title Partnership
"To realise this growth, true commercial value for our top level partners is required. A framework is developed in which the top level partners of Feyenoord are provided with a KPI-model that focuses on (1) visibility, (2) brand development and (3) conversion. The activation strategy is adjusted to the KPI's in this model and is based on the philosophy that increasing brand popularity is the strongest conversion driver, resulting in an intensive and appealing content and activation strategy."
PROJECT OBJECTIVES: 
To increase unaided and aided brand awareness for Droomparken.

To increase brand preference for Droomparken among all football fans in The Netherlands.

To increase rental and real estate income from Feyenoord fans in Droomparken holiday parcs.