Last year, the ECA's General Counsel decided to have a rethink at what sort of legal services ECA should be delivering to its members. The latest stage of that process is the introduction of the ECA Legal Journal.
The first issue is available to read now and, going forwards, will be published on a bi-annual basis.
As ECA CEO Charlie Marshall explains in his introduction to this new publication, "Many of you will remember the ECA Legal Bulletin, our annual publication designed to provide you with useful and practical information regarding football law matters.
"As part of our revamp of ECA Legal Services, some of which have already been launched, with others in the pipeline, it's my pleasure to introduce you to the new ECA Legal Journal, which will be a key pillar in our new programme of legal activities."
Mario Flores Chemor is ECA Head of Sports Legal and he reveals the broader strategy behind the Journal, which some members may recall was previously known as the Bulletin.
He says, "The idea was to create a document that not only has the latest cases but also articles written by external counsels, whereas in the past we just reported on cases.
"We will produce the Journal twice a year, once in November and then also in May."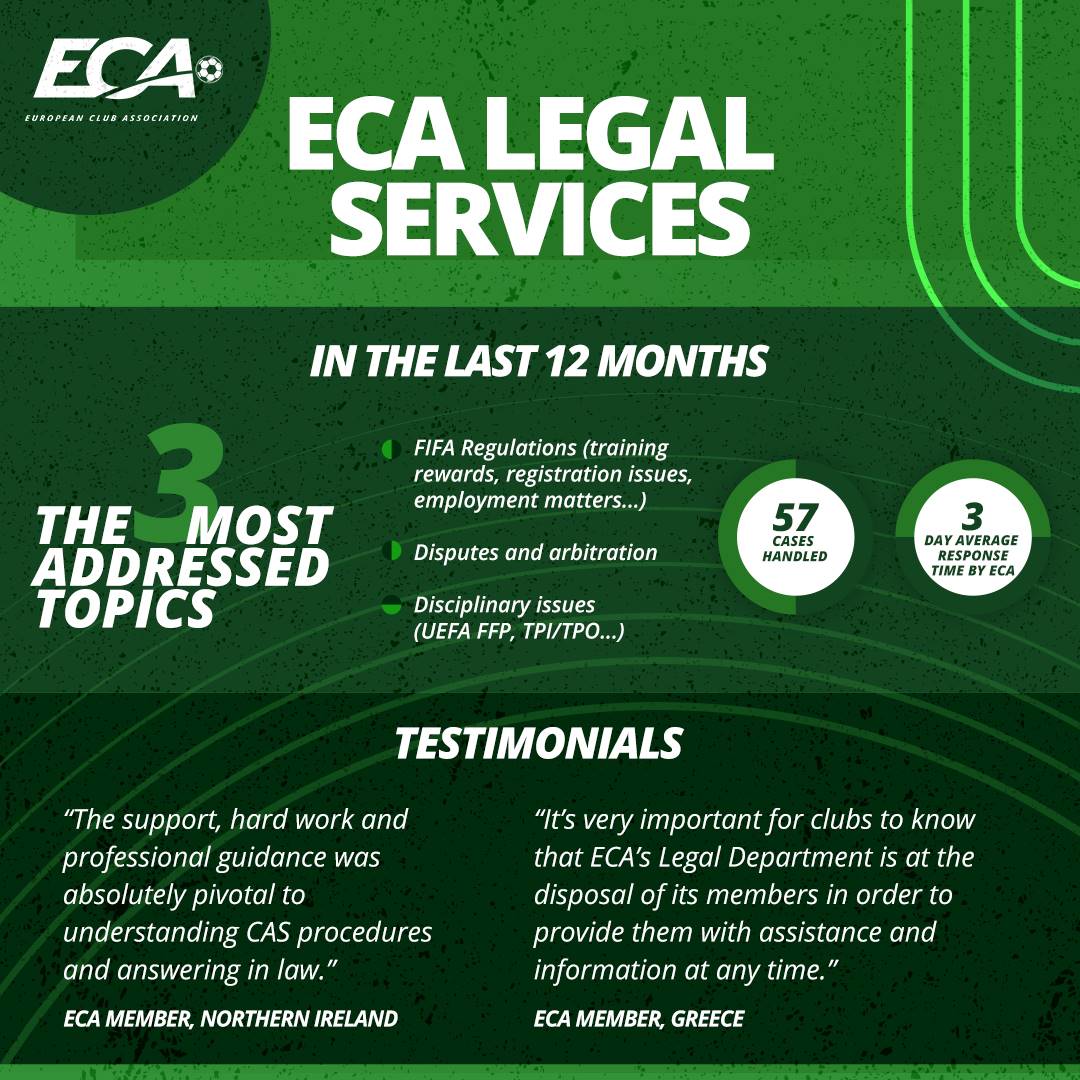 This is also responding to a clear need among member clubs.
"Three months ago we released a survey. One of the most consistent answers we received was that this type of publication was very helpful and they wanted us to bring it back," adds Flores.
Inevitably, Covid-19 has presented ECA member clubs with a new set of challenges, which they never had to consider before the pandemic. The first issue of the Legal Journal addresses the issue of Covid-19 and player contracts.
Another topic featured is a fascinating examination of third-party contracts. Some of you will remember the furore caused by West Ham United signing Carlos Tevez and Javier Mascherano back in August 2006 whose rights were both owned by a third party. West Ham had been able to bring in two world class players by concluding certain undisclosed agreements.
By means of Article 18bis of the Regulations on the Status and Transfer of Players, FIFA banned the so-called third-party influence on clubs. But, as Flores adds, "it has been applied to situations that were not the same as Tevez and Mascherano."
The Legal Journal is just one part of the ECA legal team's broader ambition to reach out to members and provide help wherever possible.
As Flores concludes, "We're also organising legal workshops and setting up meetings with clubs, so they can get to know us. We can talk about cases and topics that we can assist them with.
"Members often ask us about FIFA regulations and how a rule should be interpreted. For example, a club may want to register a player but is unsure about whether registration will cause a financial liability in terms of training compensation or a solidarity payment."
"Our strategy is to communicate to our members that we are here for them and that we can help them in a variety of different ways."
You can download the inaugural edition of ECA's Legal Journal here.