The fourth ESSMA Summit was successfully held at the AVIVA Stadium in Dublin on 16th & 17th January 2018. Organised by the European Stadium & Safety Management Association (ESSMA), in partnership with ECA and EPFL, the event was host to 375 participants representing clubs, stadiums, leagues, federations, amongst others.
The ESSMA Summit has become the must-attend event for those involved in the stadium industry. As a proud strategic partner of the event, there were many ECA Member Clubs in attendance, both as speakers and participants, learning about areas such as stadium lifecycle, matchday operations, and fan experience.

Following an in-depth tour of the 51,700-seat Aviva Stadium, participants were welcomed to the event by ESSMA President and Arsenal FC Stadium & Facilities Director, John Beattie. ESSMA Managing Director, Dimitri Huygen, kicked off proceedings, highlighting the great work ESSMA had achieved over the previous year and outlining some key events to look forward to over the coming one.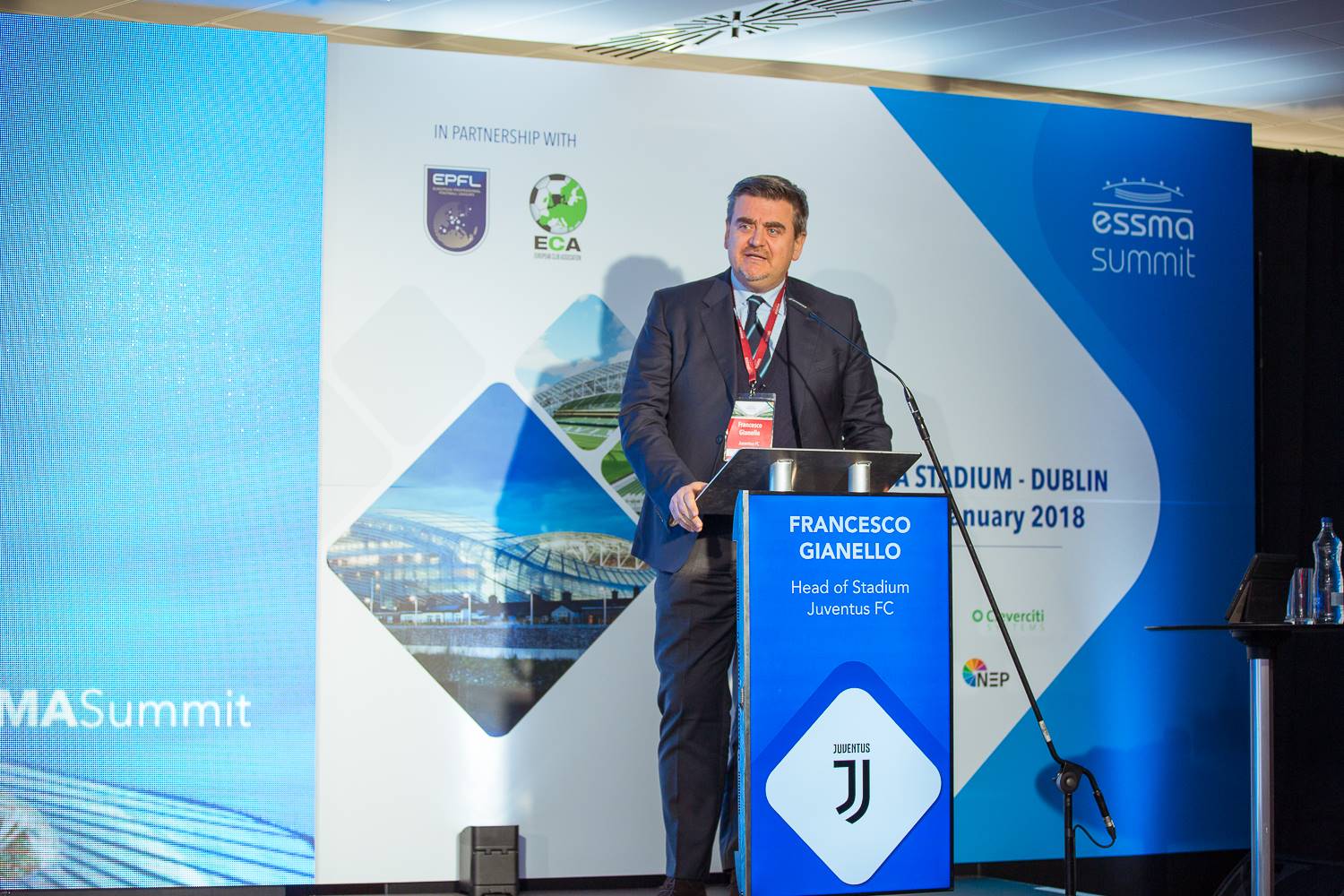 The topic of Matchday Operations, introduced by ECA Head of Communications and Marketing, Marc Schmidgall, saw Francesco Gianello, Juventus Head of Stadium, present a detailed case study on the workings of the Allianz Stadium. Focusing on fan experience, he highlighted the importance of fan engagement & entertainment in creating a memorable matchday experience.
Discussing the topic of the Fan Journey, the final topic of the day, Benjamin Steen, FC Bayern München Head of Digital Projects & CRM, provided an insightful keynote on the digitalisation of the Allianz Arena. This included clear examples of how the German champions have used technology to add to the stadium experience. In addition to the exceptional speakers from ECA Member Clubs, attendees enjoyed presentations from the likes of La Liga, Tampa Sports Authority, and Disneyland Paris, amongst others.
Day 2 saw attendees split into groups as they took part in four seminars related to different topics on stadium management. This included a seminar on Fan Experience & Engagement, focusing on new business strategies to engage fans. Valencia CF provided a case study on the club's audiovisual innovation in enhancing the fan experience on match days. Additional seminars were held on Operations & Ticketing, Pitch Management, and Stadium Development, featuring further presentations from Besiktas JK, KAA Gent and Legia Warszawa. These seminars created another opportunity for ECA Member Clubs, amongst many other industry professionals, to gain expert insight into these unique areas of the stadium business.

The fourth ESSMA Summit in Dublin proved to be very successful, providing opportunity for stadium experts to discuss the latest developments and best practices in the industry, as well as vital networking opportunities.

The next edition of the ESSMA Summit will be held at FC Porto's Estádio do Dragão in January 2019. For more information on the ESSMA Summit, visit the official ESSMA website.