ECA is pleased to announce that eight clubs have been shortlisted for the ECA Best Community & Social Responsibility Programme (CSR) Award 2018. The winner will be announced at the ECA Awards ceremony on the occasion of the 21st General Assembly in Split on 10th September 2018.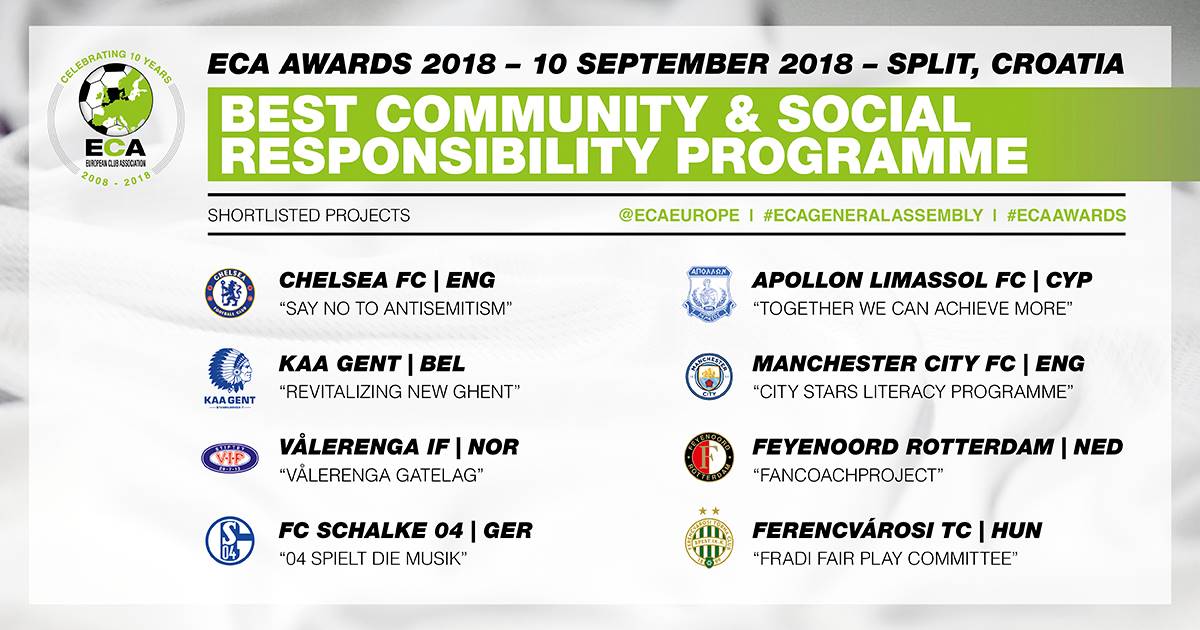 The ECA Best Community & Social Responsibility Programme Award is awarded to an ECA Member Club with a club-driven project, which:
aims at supporting/helping the local community by facing/tackling specific regional problems/issues;
is clearly more a project than an event, showing continuity and sustainability;
leads to positive results benefiting the local community in which the club has its roots;
can serve as best practice for all ECA Member Clubs.
The eight shortlisted projects for the ECA CSR Award 2018:
"Together we can achieve more"
The project aims at preventing racism and discrimination across Cyprus, encouraging equal opportunities and respectful behaviour.
"Say No to Antisemitism"
The campaign aims to send a strong message that Chelsea FC is proud to be a club for everyone, including the Jewish community, and that it has a zero-tolerance approach to antisemitism in all its forms.
"04 spielt die Musik"
The project aims at providing musical and cultural education to refugees and children from underprivileged districts of the city.
"Fradi Fair Play Committee"
The Fradi Fair Play Committee was established with the objectives to promote fair play values to club staff and fans.
"Fancoachproject"
The project uses 'Fancoaches' to offer supporters between the ages of 12 and 23 a helping hand in the social field, encouraging good behavior and positive lifestyles. 
"Revitalizing New Ghent"
The project aims at strengthening the local community surrounding the stadium through the implementation and management of new social and economic initiatives.
"City Stars Literacy Programme"
The project uses football, the club and players to inspire and engage children (aged 9-10) across the Manchester area in literacy activities.
"Vålerenga Gatelag"
The club set up a street football team for drug abusers, providing a platform for physical activity, social development and inclusion.
The winner will be chosen by the independent ECA CSR Award Jury 2018, consisting of:
Peter Gilliéron (UEFA ExCo Member & Chairman of the UEFA Fair Play & Social Responsibility Committee)
Hubert Rovers (European Football for Development Network, EFDN)
Duncan Fraser (Aberdeen FC, Winner of the ECA CSR Award 2017)
Follow all the developments by using the hashtag #ECAAwards.