ECA is proud to once again be an official partner of the European Week of Sport for the third year running. The campaign, launched in 2015 by the European Commission, aims at promoting sport and physical activity across Europe to all citizens, regardless of age, background or fitness level.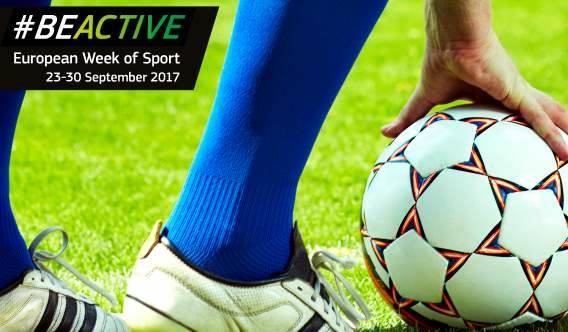 Studies show that engagement in sport and physcial activity is at an all-time low across the continent, having an effect on citizens' health and the economony as a whole. In an attempt to improve this, each year, the European Commission dedicates a week to the promotion of sports and physical activity across all EU Member States. This year's European Week of Sport takes place from 23-30 September 2017.

Alongside other leading sports organisations from across Europe, ECA has agreed to offer its backing and full support. Essentially, through the use of its communication platforms, ECA will highlight the European Week of Sport throughout the entire week. Likewise, ECA Member Clubs will be encouraged to spread the word and encourage their millions of fans worldwide to #BEACTIVE.
About The European Week of Sport:

WHAT IS IT?
The European Week of Sport is an initiative of the European Commission to promote sport and physical activity across Europe. The Week will generate new activities and also build on already existing successful initiatives in the European, national, regional or local context. This European-wide campaign will inspire Europeans to #BEACTIVE during the Week and encourage them to stay active all year long.

WHY?
Sport and physical activity contribute substantially to the wellbeing of European citizens. However, the level of physical activity is currently stagnating and even declining in some countries. The European Week of Sport is a response to this challenge. The lack of physical activity not only has a negative impact on society and people's health, but also results in economic costs. In addition, sport has the potential to strengthen messages of tolerance and reinforce citizenship throughout Europe. Promoting the role of sport as a means of social inclusion will help address on-going challenges in European society.

OBJECTIVE?
The European Week of Sport aims at promoting participation in sport and physical activity and raising awareness about the numerous benefits of both. The Week is for everyone - regardless of age, background or fitness level. It should bring together individuals, public authorities, the sport movement, civil society organisations and the private sector. Through the focus on grassroots initiatives, the Week will inspire Europeans to #BEACTIVE on a regular basis and create opportunities in people's everyday lives to exercise more.

WHEN?
The 3rd European Week of Sport will take place from the 23rd to 30th of September 2017.

WHO?
The European Week of Sport is a European Commission-led initiative. The implementation of the Week across Europe is largely decentralised and takes place in close cooperation with the national coordinators and with the many different partners who are firmly committed to support the Week. An Ambassador Team will also help implement the different promotional activities.

For more information: www.ec.europa.eu/sport/week