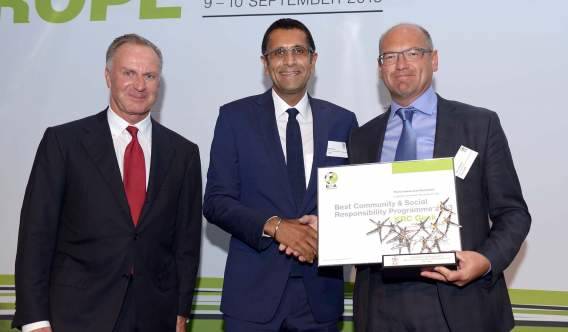 FC Bayern München, Borussia Dortmund, KRC Genk and Juventus rewarded for outstanding achievements - on and off the pitch.

On the occasion of the European Club Association's (ECA) General Assembly, the four winners of the 4th Edition of the ECA Awards were announced. The ECA Awards were first introduced in 2010 with the aim of rewarding outstanding club performances, encouraging best practice and highlighting successful club management. This year, four ECA Member Clubs were honoured for the following achievements:

European Club of The Year 2013
FC Bayern München (GER)
For their outstanding achievements during the 2012/13 season on both a European and domestic level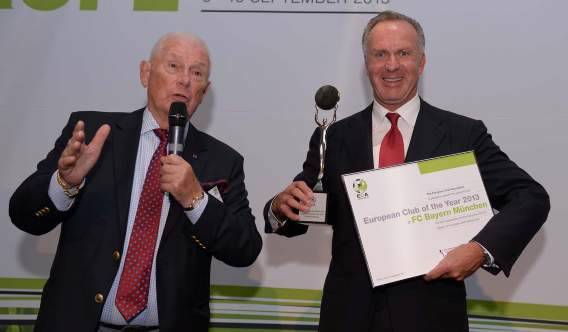 Best Sporting Progress 2013

Borussia Dortmund (GER)

For their significant progress in European competitions during the 2012/13 season

After almost 10 years of absence from the top European stage, the club returned to the UEFA Champions League Group Phase in 2011. However, their comeback in the 2011/12 season did not lead to success as they were eliminated at the group stage. The following season, 2012/13, they surprised many with their improved performances. They played in the so-called "group of death", Group D against Real Madrid CF, Manchester City FC and AFC Ajax and finished as group winners with 14 points. In the knock-out phase they eliminated in some very exciting matches Shakhtar Donetsk, Málaga and Real Madrid CF which led them to the final at Wembley Stadium in London.

This great performance in the Champions League has led the club to a significant rise in the UEFA Club Coefficient Ranking 2013.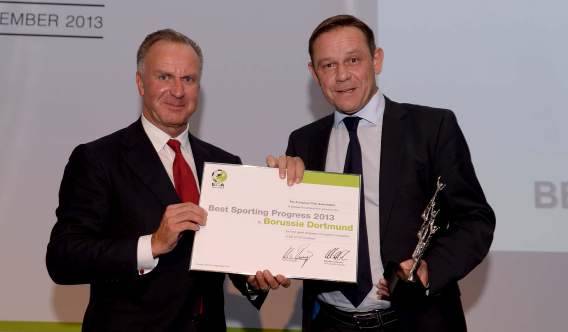 Best Community & Social Responsibility (CSR) Programme 2013

KRC Genk (BEL)

"FRZA! Welfare Cup"

"FRZA!", the community project of KRC Genk, uses the strengths of the club to the benefit of the most vulnerable people in society by using football as a lever to achieve positive outcomes.

In collaboration with five children's homes from across the region, KRC Genk organised the "FRZA! Welfare Cup", a football tournament which sees 10 children's home teams play football against one another over a 1-year period.

The participants in this competition all live in children's homes on court order as a result of their family situation or own actions. All of them share similar profiles: lack of social skills, disciplinary issues both with their peer groups and people in positions of authority, a low self-esteem and difficult relations with their families.

The project was a constant element in the daily therapeutic program at the children's homes. Firstly, it was used as a tool to work on personal values such as self-confidence, self-esteem and discipline. Secondly, it was used to improve communication and social skills towards others. Thirdly, the children were given a reason to exercise and learn about healthy life-style by preparing for match days. For the children, each group session and each physical training was an opportunity to work on their development while each game day was a reward and a confirmation of their progress at personal level. For the supervisors and therapists, all of those moments provided the possibility to teach, reward and evaluate the children. Supervisors, therapists, participants and their families showed great enthusiasm towards the project, given its positive effect on the children's personal development.

For more information: www.krcgenk.be

Similar to last year, the ECA CSR Award Winner was nominated by an independent panel which this year was composed of the following members:

Peter Gilliéron, UEFA Executive Committee Member and Chairman of the Committee for Fair Play & Social Responsibility at UEFA;

Piara Powar, FARE (Football against racism in Europe) Executive Director; 

Yuri Sviridov, FC Shakhtar Donetsk (Winner of the ECA CSR Award 2012).

Piara Powar presented KRC Genk with the award and congratulated them for their outstanding CSR Programme, stating: 

     "This initiative by KRC Genk is a perfect example of the force for the good that clubs can have in their local communities. It demonstrates clearly the power of football in tackling social issues through a clear, coherent, cost effective and well executed project. I can only encourage other clubs to follow this example of implementing a CSR project, in achieving their own CSR goals to benefit their local communities."
Best Achievement 2013: Youth Development

Juventus (ITA)

"Juventus College"

Following the great interest shown towards the Youth Academy Benchmarking Report and the subsequent success of the ECA Youth Workshop held at Emirates Stadium in London, it was decided to dedicate the Best Achievement Award 2013 to a Youth Development initiative.

In June 2012, Juventus inaugurated their own school located at the club's training ground. The idea to build a school on-site was born out of a desire to create a unique and stimulating environment for the club's youth academy players allowing them to enhance their potential both on the pitch and in the classroom.

The project's main goal is to foster the students' footballing skills while improving their academic performance through engaging educational programmes, in a manner which allows for the right balance between training and schooling. Most importantly, the project aims at decreasing school drop-out rates by enhancing both the approach and quality of teaching.

The school is officially recognised by the national education authorities and has received the classification of an 'Applied Sciences' institution, which is one of the most widespread secondary school programmes in Italy.

Through this initiative Juventus highlight the big responsibility clubs have towards their youth players and families: to not only ensure their development as a football player but also as a human being.

For more information: http://www.juventus.com/juve/en/club/college/college

ECA Chairman Karl-Heinz Rummenigge and Andrea Agnelli (Juventus)