ECA is pleased to announce the publication of its first-ever women's football strategy: 'Be a Changemaker', which aims to help clubs drive a better tomorrow for women's football through creative actions to deliver lasting positive change.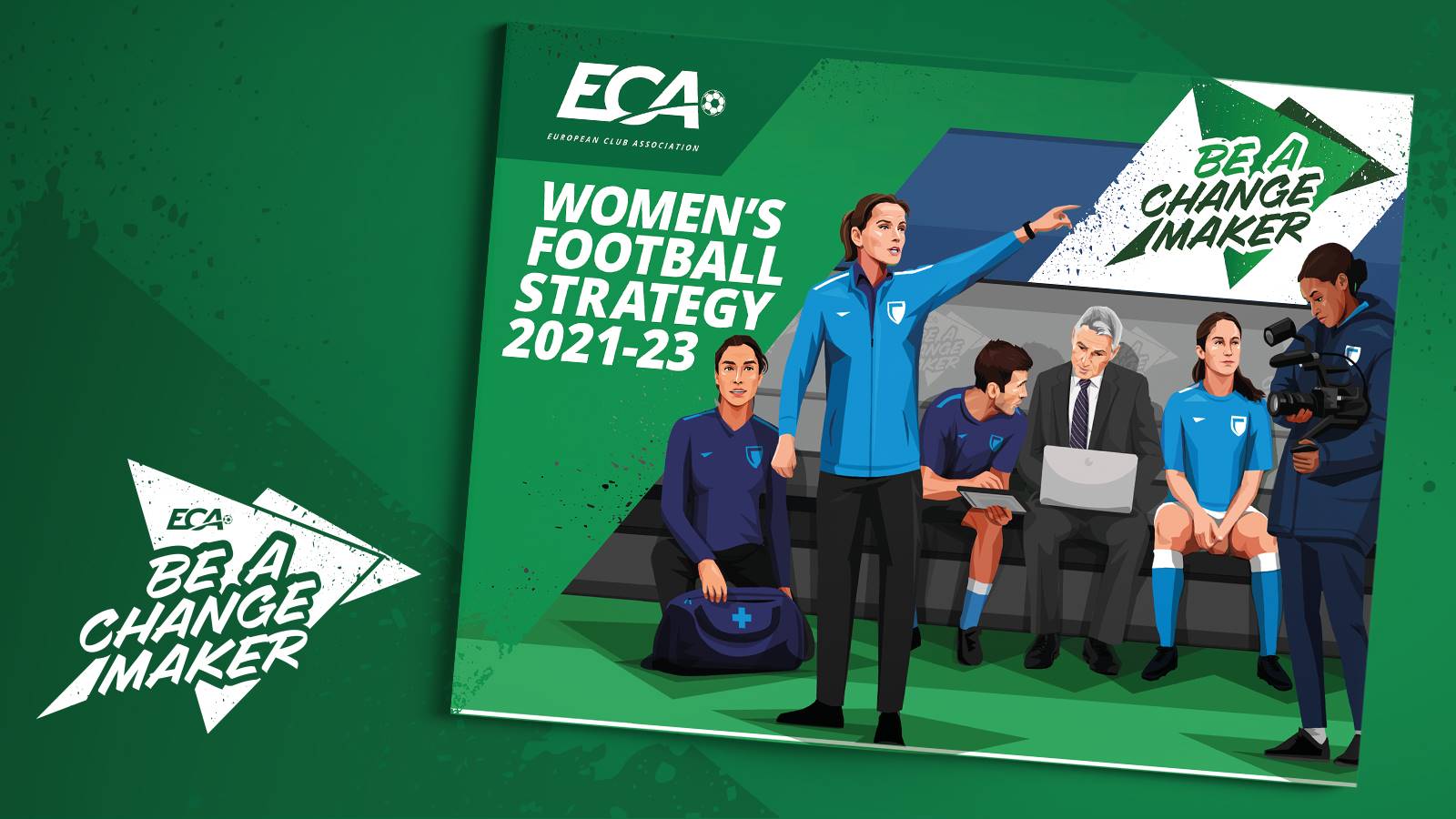 "Full scale gender equality in football is an ambitious goal but one we embrace," said ECA CEO Charlie Marshall, "Clubs have the opportunity to drive this. They have much more in common with each other off-the-field than they have rivalries on the pitch, and understand the needs, challenges and solutions better than anyone. That's why we must work as a collective, from top to bottom, to be the changemakers needed to enable the women's game to grow sustainably, to thrive and ultimately to prosper."
From unleashing the potential of European club competitions, tackling critical, yet neglected areas of medical research and optimising high-performance youth player pathways, the 'Be a Changemaker' strategy has ambitious plans that will be achieved through the implementation of six strategic goals:
Enhance club player pathways to provide a prosperous and sustainable future for the game
Accelerate professionalisation, empowering clubs to reach, maintain and exceed improved minimum standards
Advance the economic development of women's football and identify new commercial opportunities
Boost the opportunities for clubs to realise European ambitions through the development of the competition landscape
Facilitate the successful creation of new women's football clubs across Europe
Produce 'first of its kind' research studies that become a reference point for the women's game globally
ECA's 'Be a Changemaker' strategy has been developed with the aim of creating a far-reaching, robust and influential women's club football ecosystem that shows a clear path towards achieving the same level of professionalisation as in the men's game.
Jean-Michel Aulas, President of Olympique Lyonnais, ECA Executive Board Member and Chair of ECA's Women's Football Committee commented: "I have been in the game long enough to fully understand the inequalities that exist and my ability to do something about it. I'm therefore proud as the chair of ECA's Women's Football Committee to support the implementation of ECA's bold new initiatives. Through ECA's 'Be A Changemaker' strategy, I am confident that women's club football in Europe can surpass all of our expectations."
Claire Bloomfield, ECA Head of Women's Football, added: "We are part of a growing movement committed to making a transformative difference to the women's game. But you can't delegate change, you have to lead it, and at ECA, along with our member clubs, that's exactly what we intend to do.
Through ECA's first ever women's football strategy, 'Be a Changemaker' we will chip away at the age-old argument 'it wouldn't happen in the men's game' and break free from the shackles that have held women's football back for so long."
Although the pandemic has exposed the fragilities of the women's football ecosystem, ECA's long-term commitment will play a significant role in ensuring the game continues to gain momentum across Europe.
The release of this strategy also comes ahead of the launch of the UEFA Women's Champions League in its new format from the 2021/22 season, with a centralized marketing and TV deal – an exciting reforms project in which ECA worked closely with UEFA throughout.