The #Morethanfootball Action weeks, an initiative celebrating the social impact of European football by the European Football for Development Network (EFDN) in partnership with ECA and UEFA Foundation for Children, are set to take place from 21st March to 8th April 2018.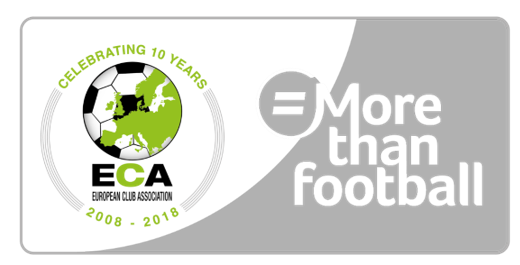 Following the successful participation of many ECA Member Clubs in the 2017 #Morethanfootball Action Week, ECA has become an official partner of this year's campaign. Highlighting the CSR activities of clubs and other stakeholders in the game, the #Morethanfootball Action Weeks aim to raise awareness of the transformative role European football can play in changing peoples' lives for the better.
In order to illustrate the impact European Football has all around the world, a social media challenge, the #Morethanfootball #Aroundtheworld Challenge, will accompany the campaign. The challenge aims to inspire everyone who loves football to create a video that shows why they believe the beautiful game is #Morethanfootball. To do so, participants perform the #Aroundtheworld football trick, challenge their friends to participate, and share the video online.
On 21st March, at the 10th EFDN Conference, an event that brings together clubs, leagues, associations and other football organisations to exchange best practice and new trends within community and social responsibility in European football, the #Morethanfootball Action Weeks will be officially launched. The campaign's official video will be shown at all UEFA Champions League and Europa League games during the course of the two and a half weeks.
These weeks will be a great opportunity to show how the beautiful game is #Morethanfootball. For more information on the initiative, visit the official #Morethanfootball website.