ECA is excited to announce that 16 inspirational club projects have been shortlisted across the following four award categories:
ECA Social Impact Award 2022
ECA Women's Football Award 2022
ECA Youth Football Award 2022
ECA Corporate Partnership Award 2022
The ECA Awards, reintroduced in its new shape and with new categories in 2021, aim to promote and rewarde outstanding achievements from ECA Member Clubs which can serve as inspiration for the whole ECA Membership and wider football community.
The winners will be announced during the 28th ECA General Assembly taking place on 22-23 September 2022 in Istanbul, Türkiye. 
Find out more about each of the shortlisted projects from the Social Impact category (details for other categories will be available soon):
ECA WOMEN'S FOOTBALL AWARD 2022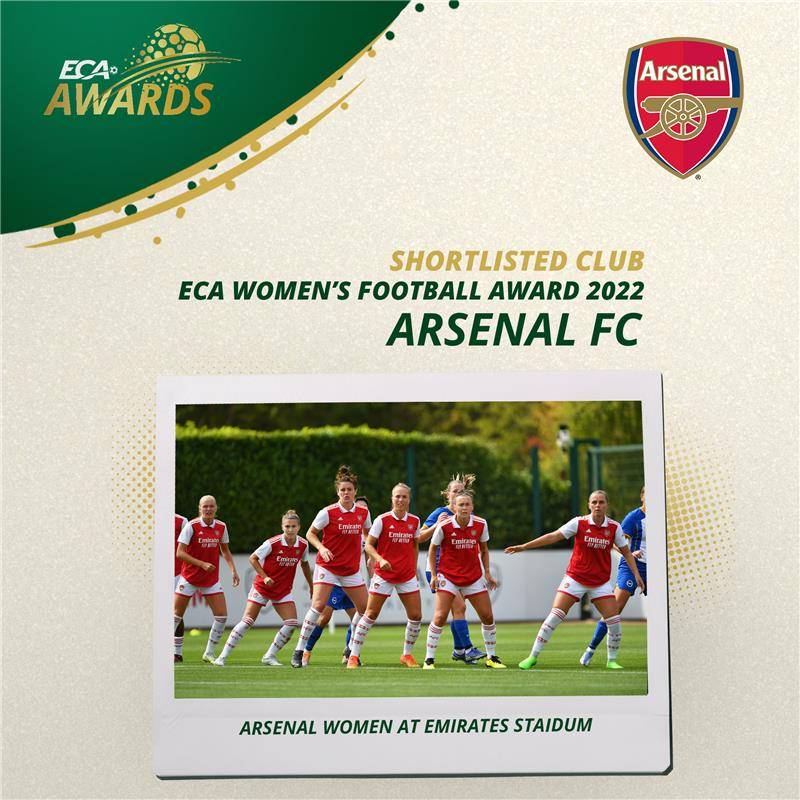 Arsenal FC |

Arsenal Women at Emirates Stadium
"Last season Arsenal had the second highest attendance in the league and the highest average attendance in the WSL, so the Club had a strong platform to build from and the 4 games at Emirates Stadium had seen thousands of fans cheer on Arsenal Women - the Club wanted to build on this! At the same time as playing more games at the Emirates, Arsenal decided to double the amount of Season Tickets that are offered at Meadow Park, Boreham Wood. The aim is to beat sales from last year with at least two 'marquee' games with record attendances to further promote the women's game."
PROJECT OBJECTIVES: 
Identify an audience for the Women's game and communicate with them appropriately rather than as just Men's football supporters.
Be trailblazers for our fans and champion the Women's game by creating big 'events' with a buzz around Women's Football.
Grow audiences for Women's Football and invest in the game to ensure the team have a platform to inspire the next generation of Arsenal fans and players.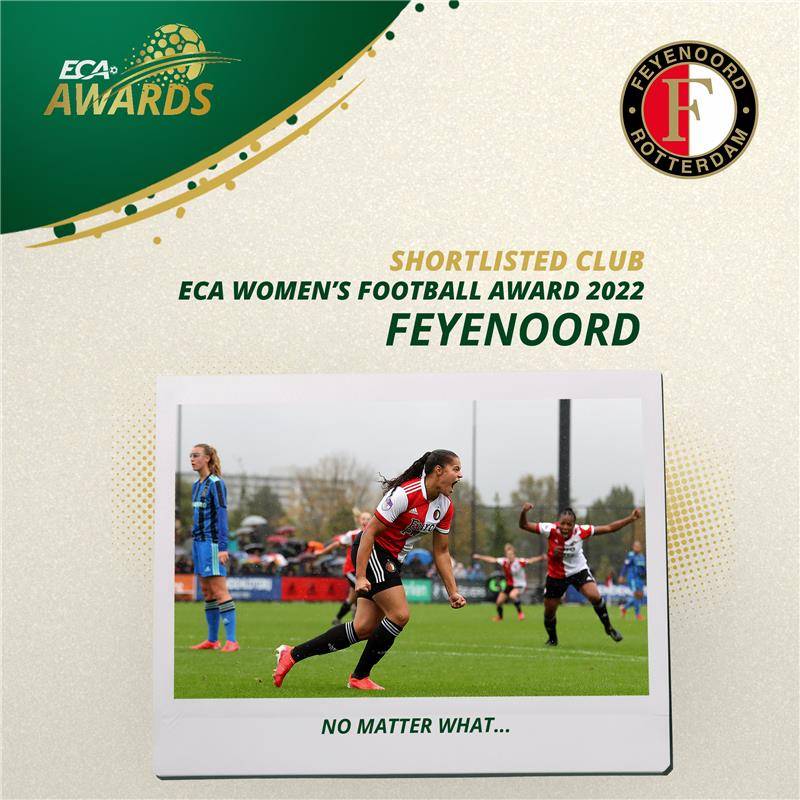 Feyenoord |

No Matter What…
"We started our mission in the summer of 2017 to build our own female team from the bottom up and with a strong foundation. In the past season we succeeded by playing our first season at pro level with no less than 7 academy girls in the first team squad. Over the coming years this number will increase. Feyenoords female team will play in the same style of play as Men's team and academy teams."
PROJECT OBJECTIVES: 
To create both a source of inspiration and a pathway for girls from Rotterdam (and Rotterdam-minded girls).
To create a sustainable and lasting model in which mostly homegrown players represent Feyenoord Women.
To strive for a solid position within the top 3 of Dutch female football and in the longer run, to participate in European football.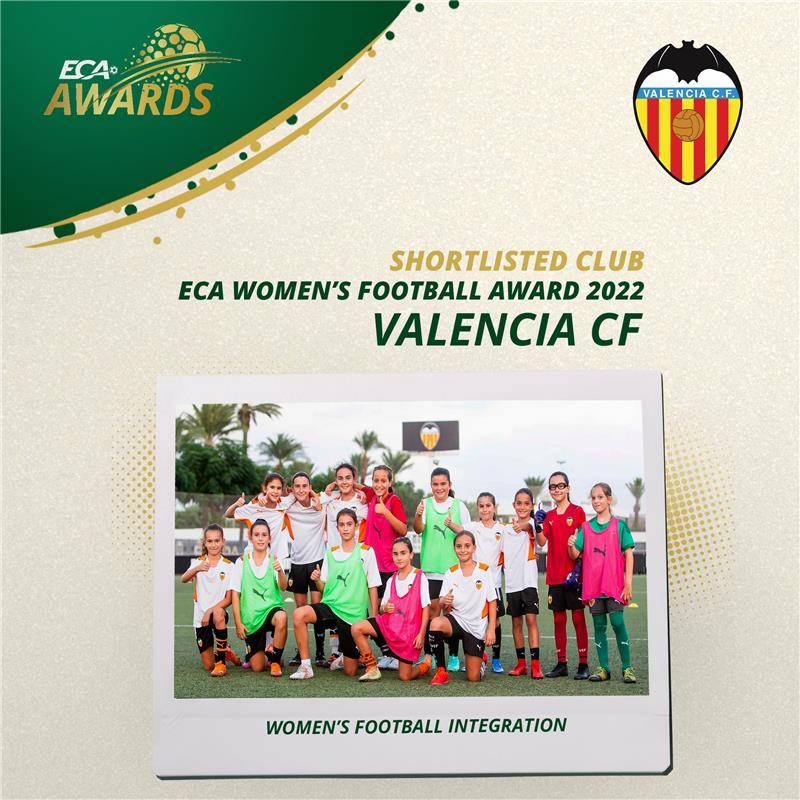 Valencia CF |

Women's football integration 
"In the 2021/2022 season, the VCF Academy broadened its horizons, integrating formative level women's football into its structure. All the women's teams that form part of the VCF Academy now train at the same facilities, under the coordination and supervision of the VCF Academy coaches. The new working structure facilitates coordination between all of the departments of the VCF Academy, and will allow the use of the same methodology and infrastructure for growth amongst all teams, providing equal resources and more assistance for development."
PROJECT OBJECTIVES: 
To help better prepare women's football teams, giving them more visibility and awareness, improving the quality and boosting the female football.
To provide the women's teams better resources and more assistance for their development, counting on the same methodology and infrastructure for growth amongst all teams.
To improve the quality of our women's academy with the aim to provide more players to the VCF Femenino team and their National teams.
Heart of Midlothian FC |

Supporting the growth of Women's Football
"Hearts became the first Football Club in Scotland to fully integrate football for all into our existing Elite Academy structure. Under our "One Club, One Passion One Hearts" mantra, boys, girls, women and men are afforded the same opportunities to reach their full potential and achieve a career in sport. Hearts Women achieved promotion to the top flight of Scottish Women's football in 2020 and moved to semi-professional status in 2022."
PROJECT OBJECTIVES: 
Overcome financial barriers to growing the womens game to support achieving equality of opportunity for girls and women.
Build innovative partnerships that create aspiration, tackle the drop-off in participation in girls' and women's sport and address gender imbalance in football and industry.
Provide support for and advocacy on behalf of women players to help prepare for, find and build successful dual careers.
ECA SOCIAL IMPACT AWARD 2022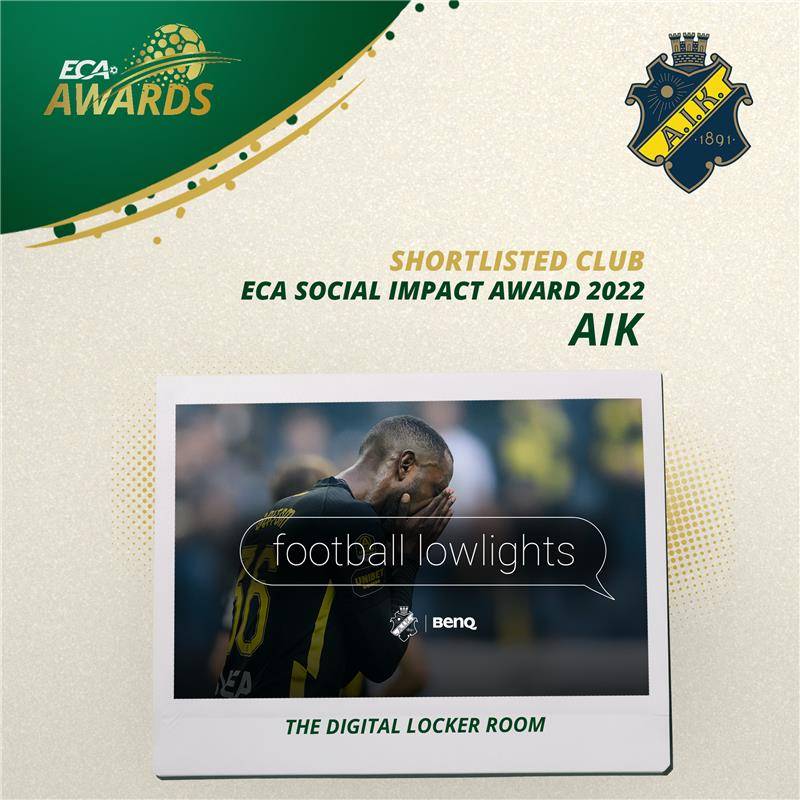 AIK | The Digital Locker Room
"We introduced an educational program focused on players between 13-16 years old, team leaders and parents to highlight this issue, demonstrating the possible effects of harassments and bullying and improve the management and safety of online platforms and forums. The initiative was named "The digital locker room" and was introduced through a nationwide campaign called 'Football lowlights'."
PROJECT OBJECTIVES: 
Raise awareness of the increase of harassments on digital platforms.
Educate young players, team leaders and parents about the effect of digital harassment.
Follow up and work for a decrease of events and incidental reports.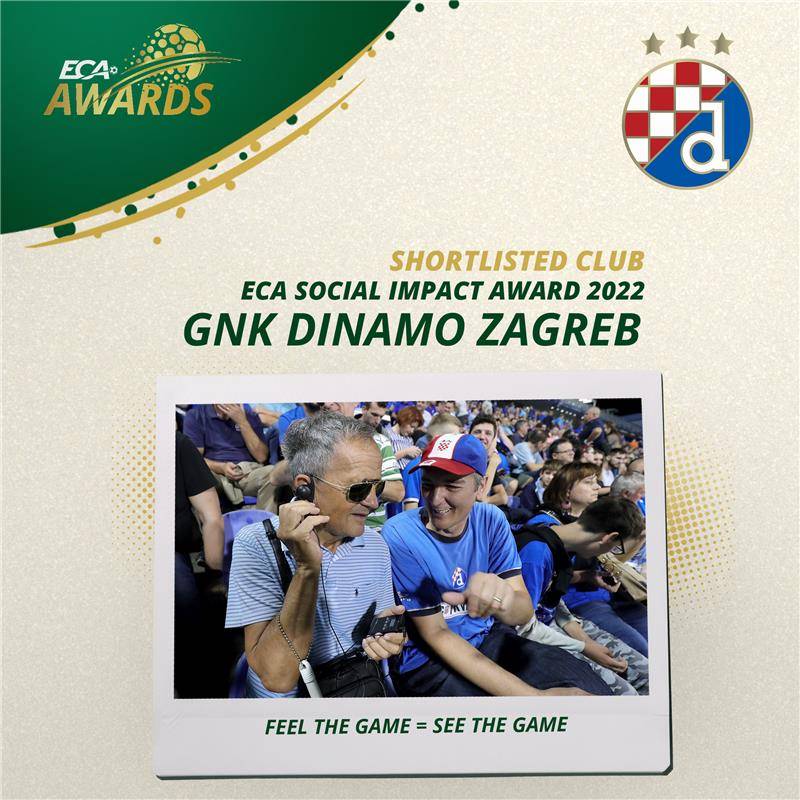 GNK Dinamo Zagreb | Feel the Game = See the Game
"In 2017 Dinamo has launched a project named "Feel the game = See the game" - Audio Descriptive Commentary (ADC) of football match for blind and partially sighted supporters for the first time in Croatia. Commentators are sitting in the commentary box and with the help of special equipment they are describing things like ambience, stadium atmosphere, player jerseys,and everything they see, while blind and partially sighted fans are listening the ADC live at the stadium, together with other non-disabled fans. "
PROJECT OBJECTIVES: 
Matchday experience for blind and partially sighted fans at the stadium and at home.
To integrate of disabled people in football (matchday experience)
To raise awareness of the importance of equality and equal rights for all people.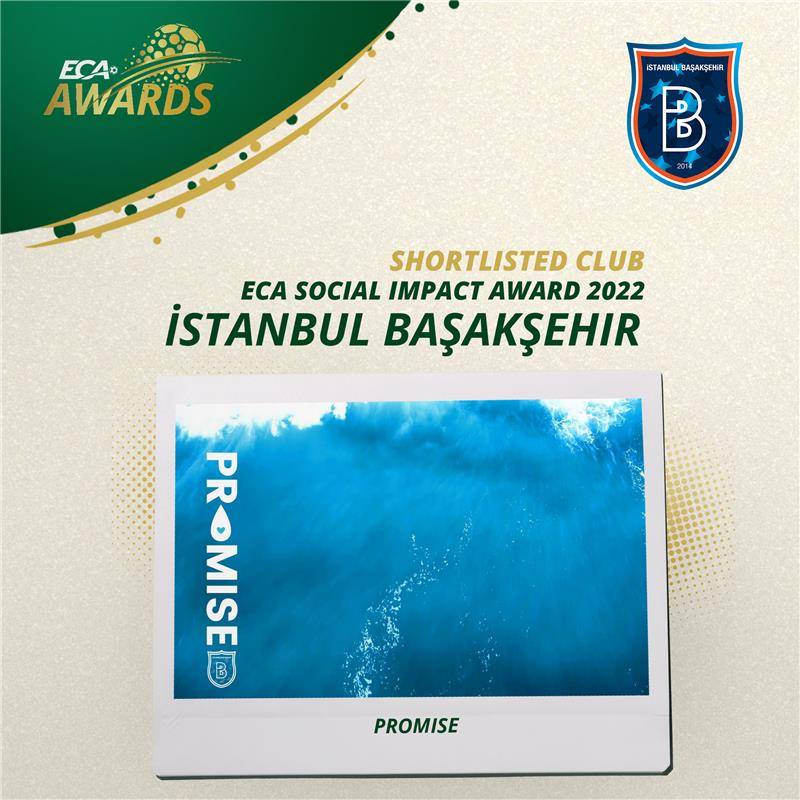 İstanbul Başakşehir

| Promise
"We wanted to point out the alarming facts about Water through our 2021-22 season alternative kits and raise awareness about the relevant SDGs. We partnered with Moovit, the leading mobility app in the World, to offer & encourage all fans to use eco-friendly solutions in their daily lives including arriving in our matches. We expanded our conversation about Water to Spanish community by joining our forces with Spain's Real Betis."
PROJECT OBJECTIVES: 
To point out the fact that we do not have a water-rich Planet and alarming facts about Water in alliance with UNs reports in addition to raising awareness about relevant SDGs.
To strengthen the Club's brand image and social ID among its fans and followers and to reach out to new audiences via a common purpose.
To keep promoting the smart solutions and innovation in order to provide fans ways more eco-friendly in their daily lifes and also in fan engagement in football.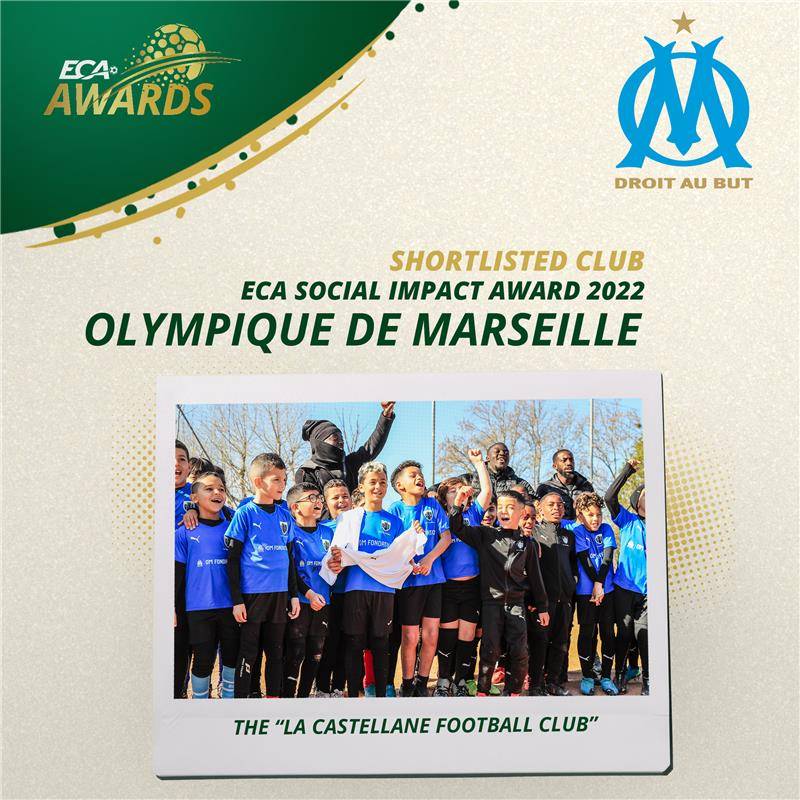 Olympique de Marseille | The "La Castellane Football Club"
"In September 2019, OM Foundation has created a football club affiliated to the French Football Federation in the neighborhood of « La Castellane » in Marseille and called "FC La Castellane". Known as an area with a high level of social exclusion and a source of inequality, particularly for young people, this club aims to offer these children a credible and concrete alternative to the many temptations that unfortunately come their way in this neighborhood."
PROJECT OBJECTIVES: 
To enable the practice of sport in an approved setting.
To use sport as a vehicle for education, health, culture and social development.
To promote the professional integration of facilitators through training.
ECA YOUTH FOOTBALL AWARD 2022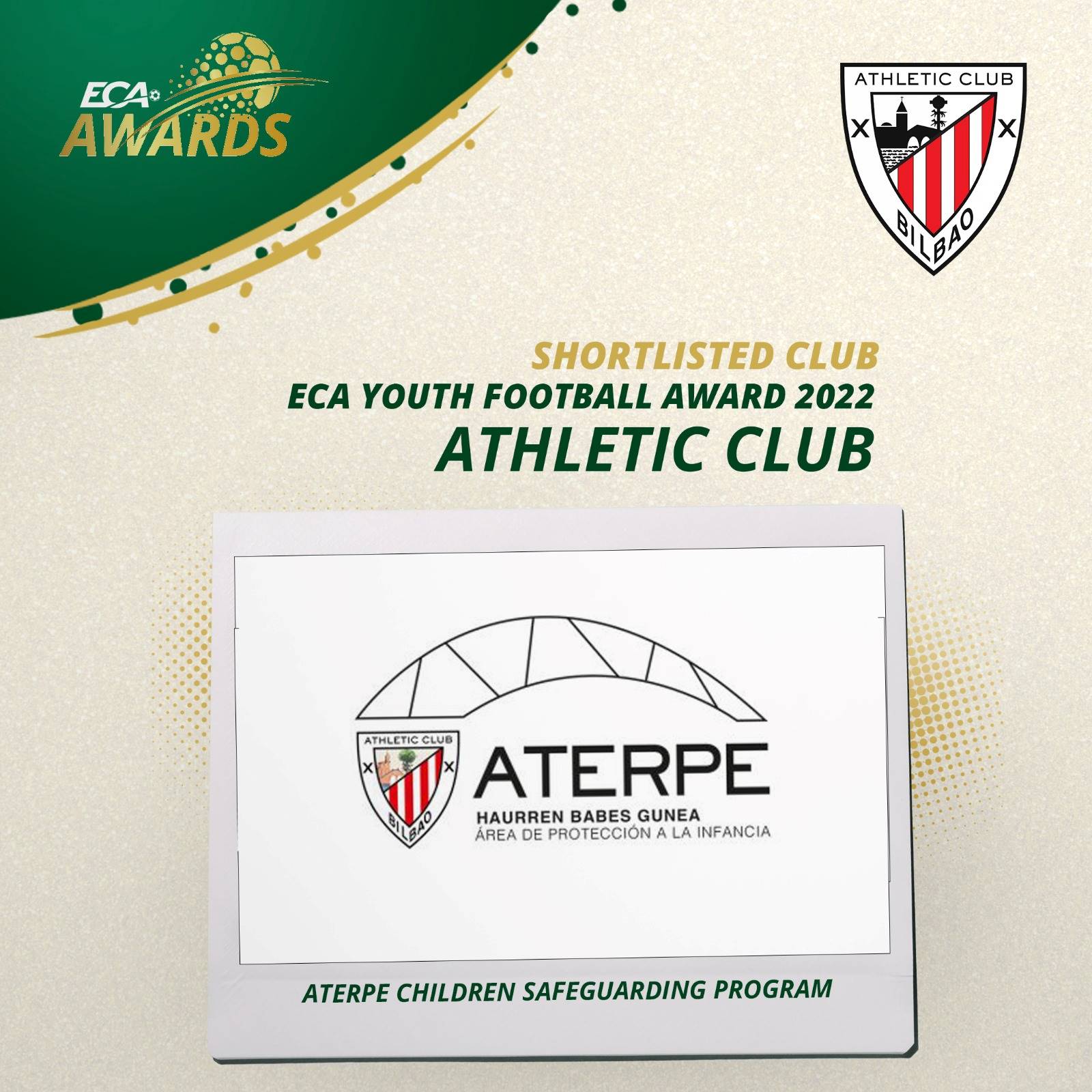 Athletic Club

|

ATERPE children safeguarding program
"This programme is a framework that brings together all the actions that are being carried out in the Club. The responsibility for the protection of children and young people in the Club must be known and respected by all the Club's employees. The responsibility for creating safe spaces therefore lies with all the people who make up the Club: Board of Directors, employees, volunteers, trainees etc."
PROJECT OBJECTIVES: 
Generate safe spaces for children within the club.

Prevention of every single form of violence against children.

Training for adults, and proper protocols to react.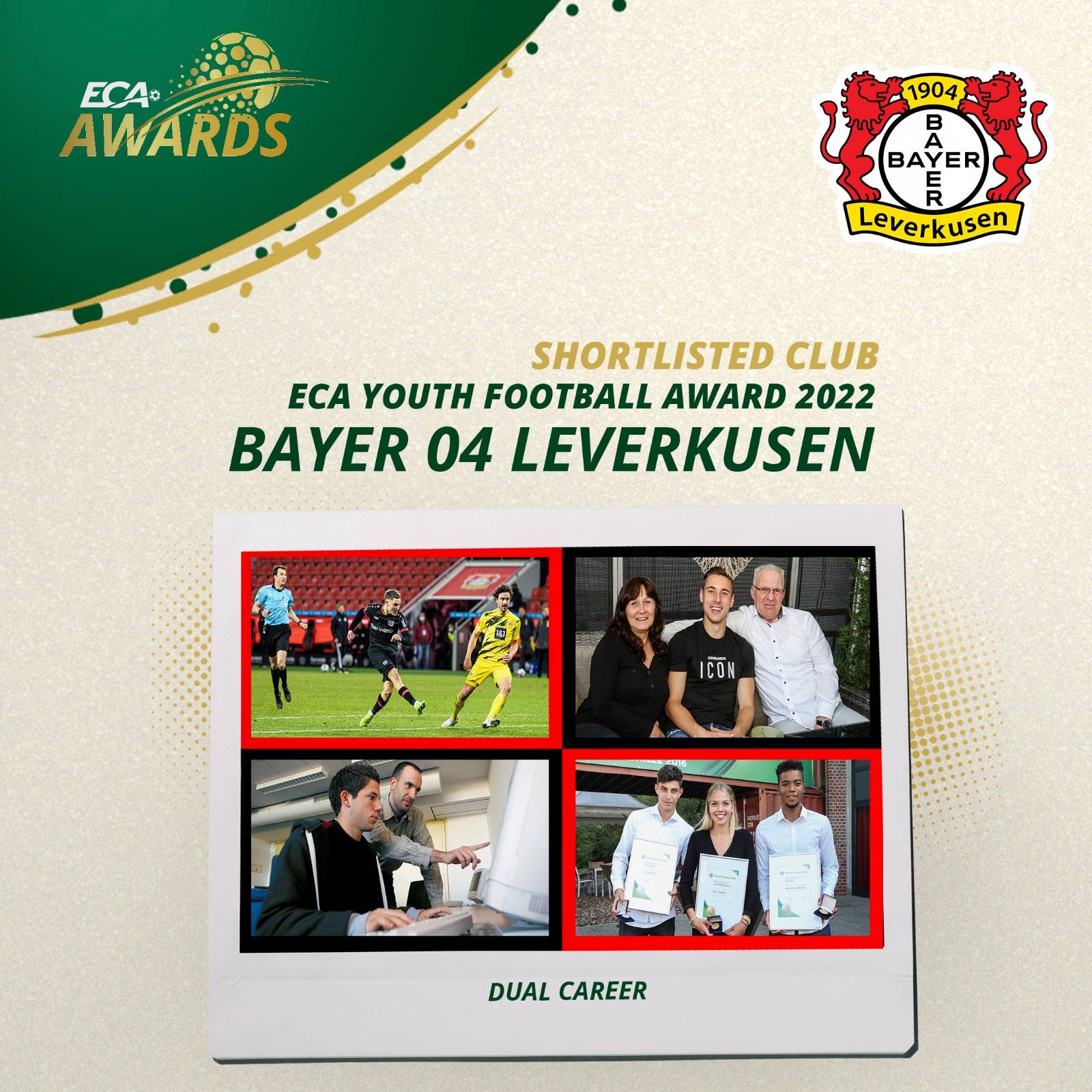 Bayer 04 Leverkusen

|

Dual Career
"The dual career system applies with the aim of linking school and football or vocational training/studies and football in a meaningful way so that both training courses are not only at the highest possible level but also benefit from each other. To this end, an individual career plan is drawn up for each player, which takes into account all areas of support (school, training, service, medicine, sports psychology, housing, integration and social issues) and is balanced with the sporting area."
PROJECT OBJECTIVES: 
Top talents should arrive in top-level football - but a second pillar (school / apprenticeship) should be available.

Only 3% arrive in Top5 league: But the remaining 97% should also be promoted in the best possible way.

Live up to our responsibility for young people: Encourage young athletes in their personal development.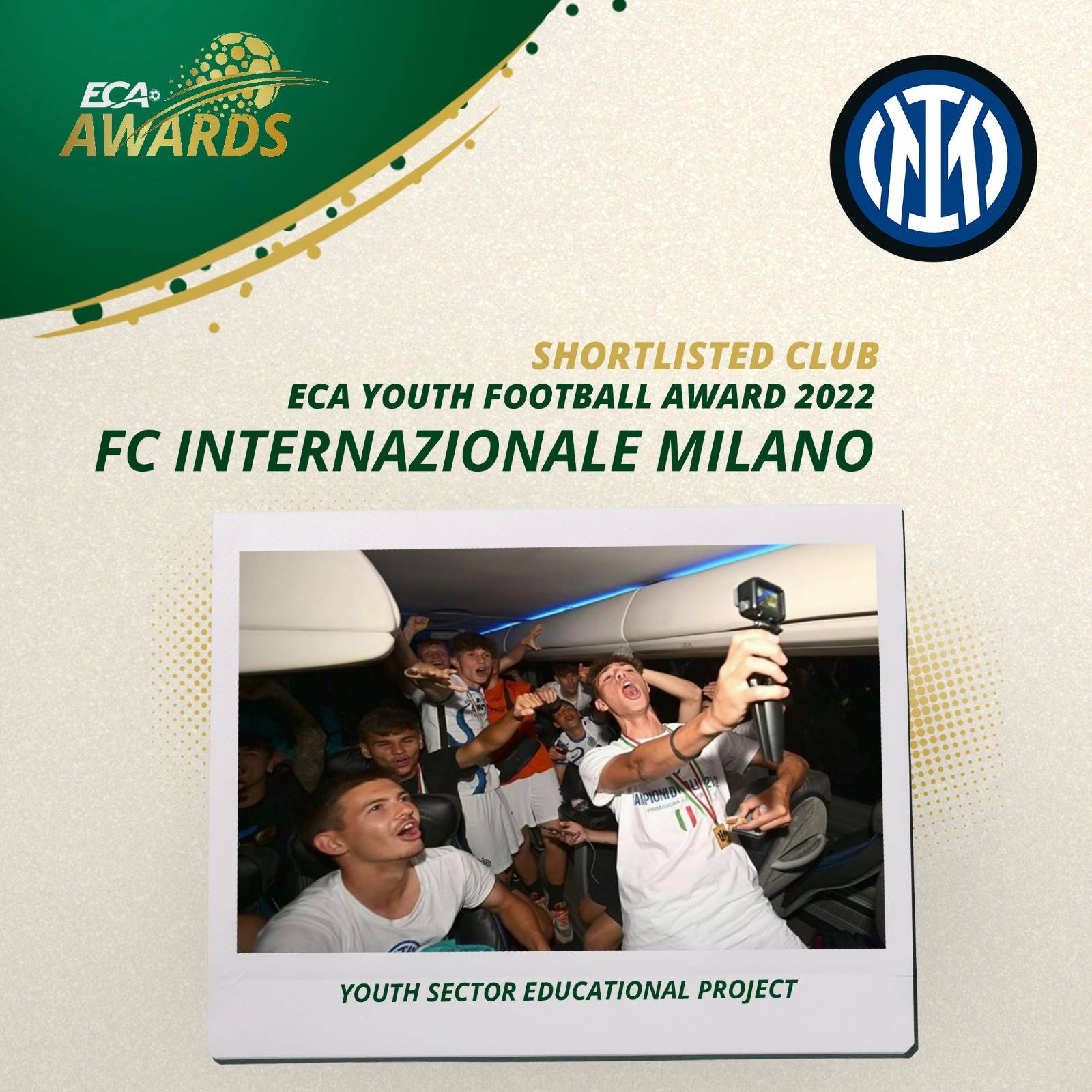 FC Internazionale Milano

|

Youth Sector Educational Project
"This Project has been developed through the creation of an 'ad hoc'path aiming at 'training and informing' the young athletes with the goal of creating an 'Inter Style' in the way of being and behaving, to keep reaching important sportive results while promoting a personal and human growth. It allows the players of the different age ranges to address the several sensitive topics that characterize the environment in which we live, also involving the people that are in daily contact with the players."
PROJECT OBJECTIVES: 
Personal and interpersonal player growth and adult training to provide them with the best possible educational solutions.

Raise awareness on sensitive and current topics (e.g., children protection, bullying and cyberbully, social topics, sustainability).

Development of a work model that can lead to the creation of a safe and ideal environment in which human values reflect sport values.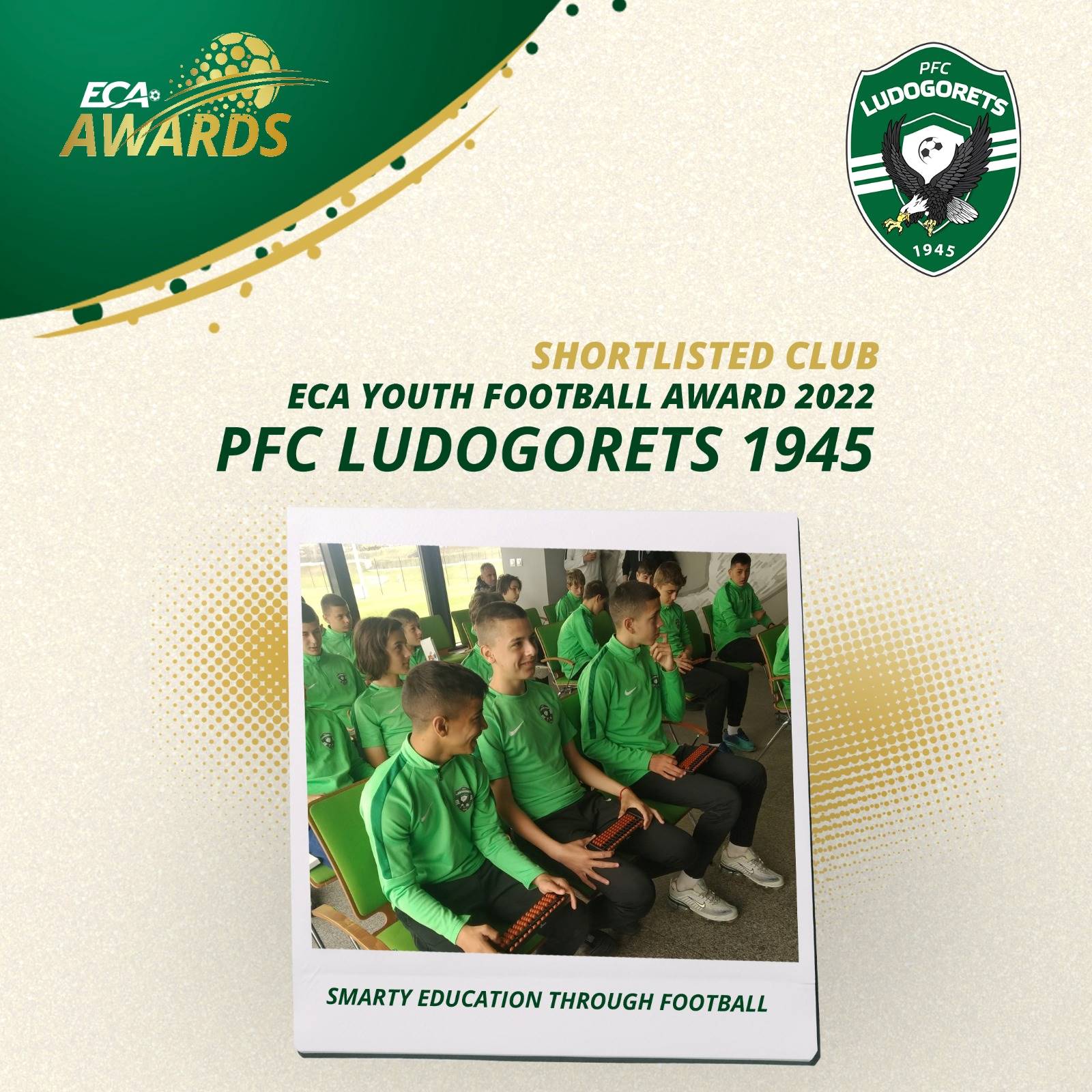 PFC Ludogorets 1945

|
Smarty Education through football
"The aim of the project is to contribute to the development, education and empowerment of young people and to contribute through the sports presentation in an innovative way by incorporating football interpretations into the curricula. The club invests not only in the sports and technical skills of young people, but also in their quality education, which will help them and improve the quality of life in the future."
PROJECT OBJECTIVES: 
Accessible and sustainable education- difficult topics in education require innovative methods of presentation. In this way, through current examples, learning is more fun, accessible and understandable.

Motivation for learning and quality of the learning process- the most effective and efficient way of engaging young people in the learning process can happen with new and creative methods - through sport in the learning process.

Popularity - the inclusion of the prepared lessons in the educational process promotes the club and the academy throughout the country and generates popularity of football in general.
ECA CORPORATE PARTNERSHIP AWARD 2022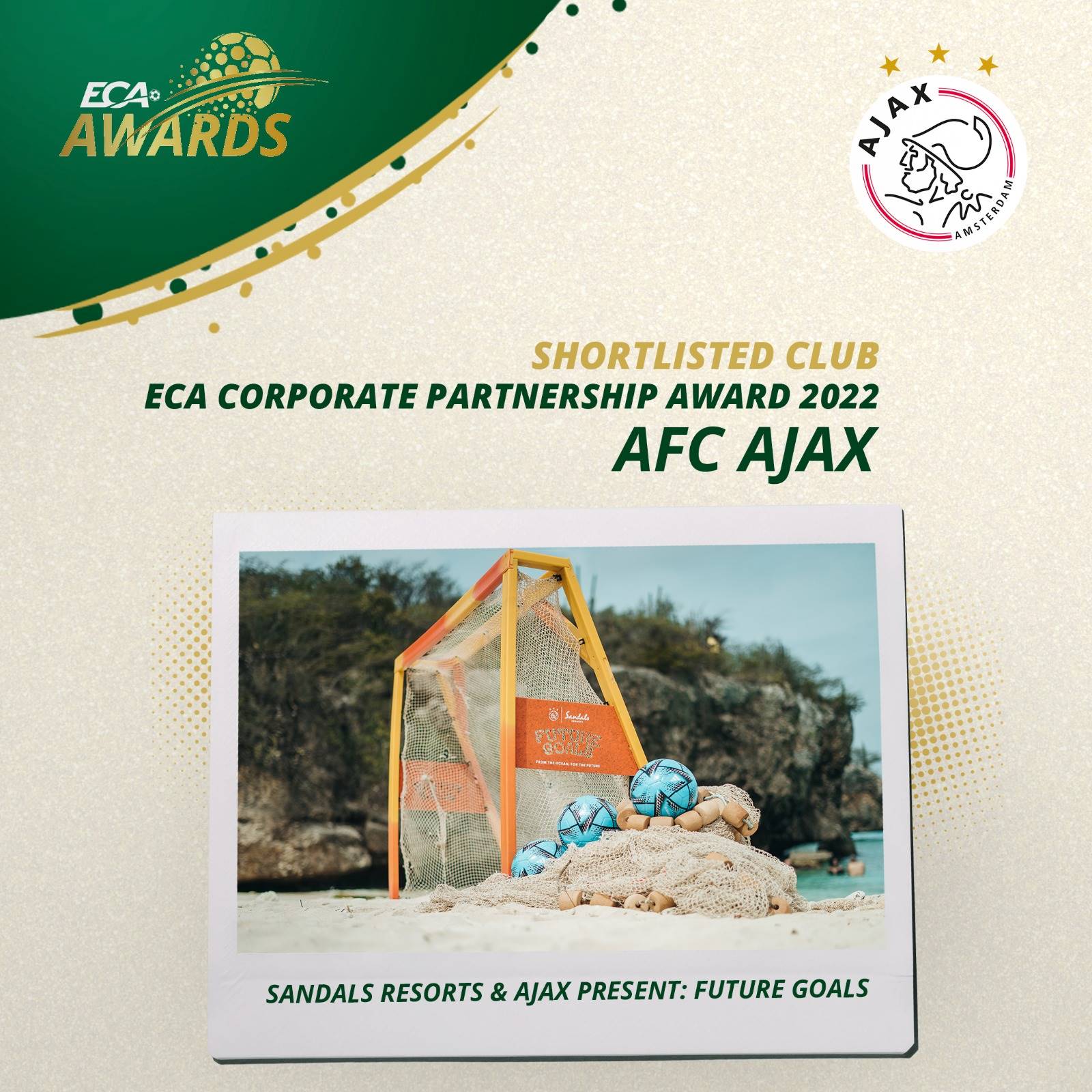 AFC Ajax

|

Sandals Resorts & Ajax present: Future Goals
"AFC Ajax launched a 3-year partnership Sandals Resorts, to make an impact on the local communities. Ajax and Sandals had the shared ambition to connect the dots. We joined forces to launch Future Goals: a Caribbean-wide initiative that encourages children to play football, by providing sustainably produced materials. The program is split in two pillars: Facilitation and Education."
PROJECT OBJECTIVES: 
To encourage and facilitate at least 70.000 children to play football in The Caribbean.

Sandals to attract new customers and inspire customers to return through its approach of giving back to local communities.

Ajax to engage fans through a classy campaign aligning with the aim of making football available for everyone. But above all, smiles to people's faces.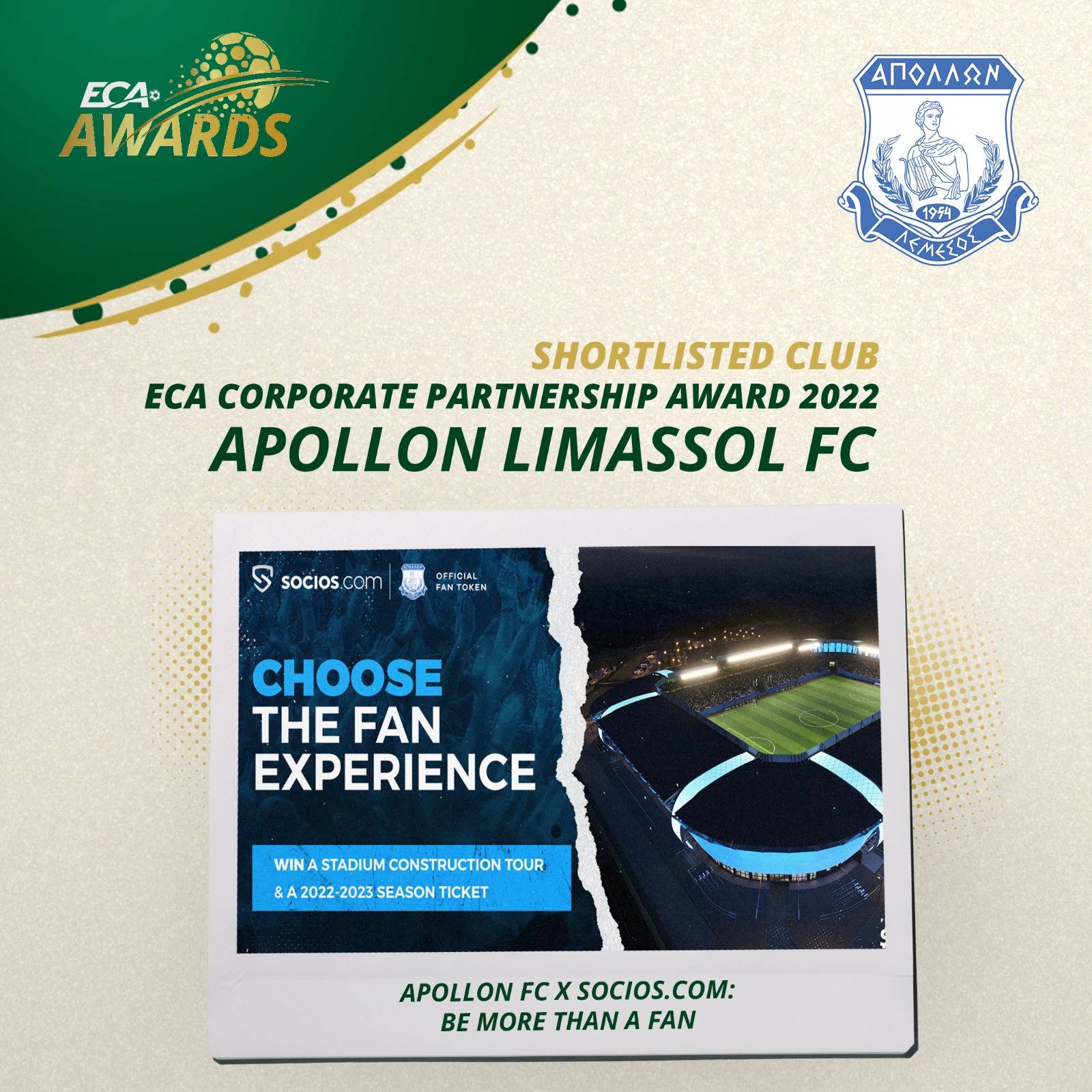 Apollon Limassol FC

|

APOLLON FC x SOCIOS.COM: Be more than a fan
"Apollon Limassol FC joined Socios.com, as one of the first sports brands/clubs in the world to embrace blockchain and tokenization technologies. Apollon FC created their own official fan token which gives the right to influence club decisions by voting in decision polls and earn once-in-a-lifetime rewards linked to the club, including innovative digital experiences and real-life activations. Apollon FC fans made history when they become the first of any major sporting organization to choose the first team home & away kit designs."
PROJECT OBJECTIVES: 
Develop fan engagement and offer rewards to the loyal supporters of the club.

Innovate and increase club brand awareness around the world.

Create a new revenue stream for the club.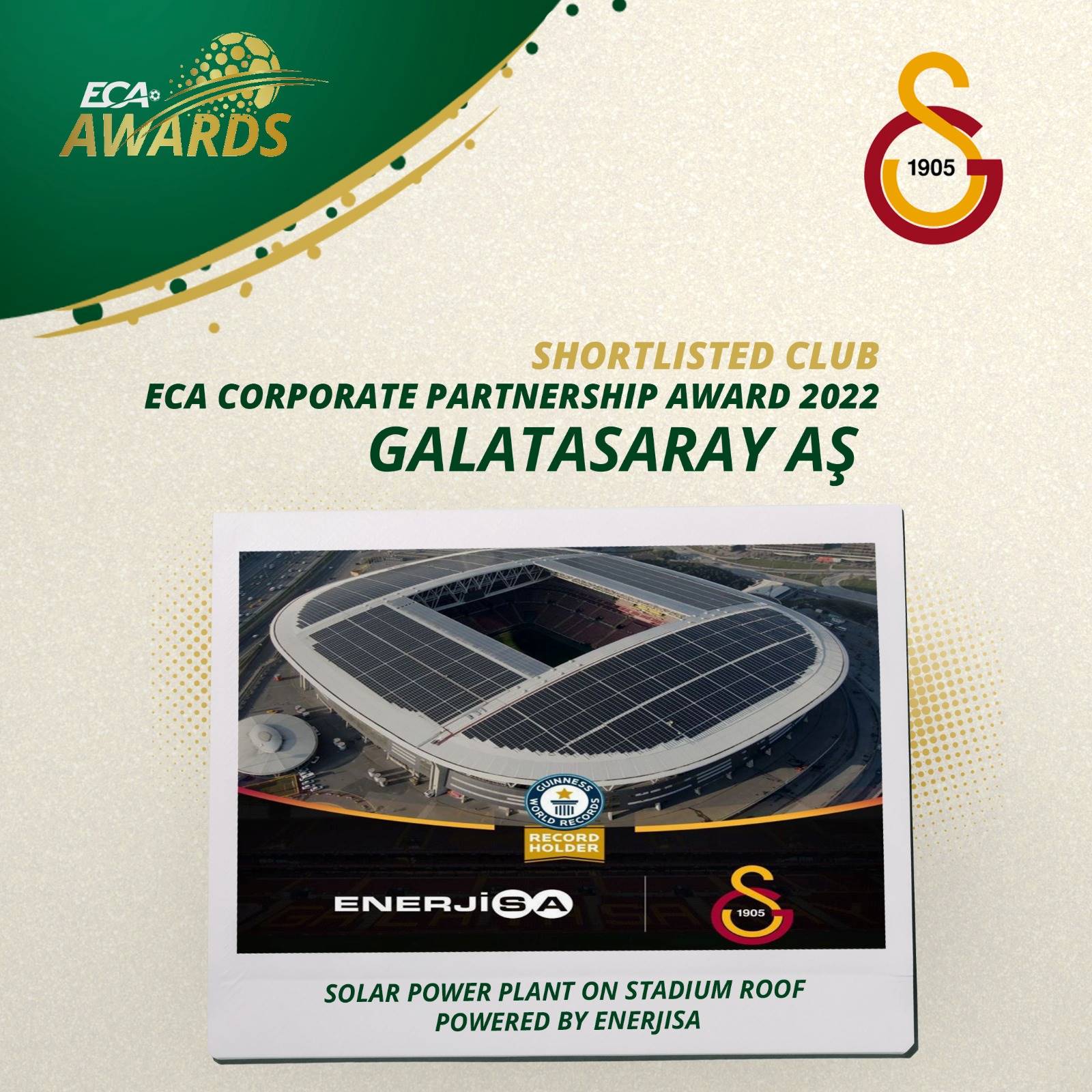 Galatasaray AŞ

|

Solar Power Plant on stadium roof powered by Enerjisa
"In this project, the capital expenditures cost of which was undertaken by Enerjisa, one of the leading energy companies in Turkey, and a long-term performance-based business model was developed, both Galatasaray, Enerjisa and our environment won."
PROJECT OBJECTIVES: 
Reducing carbon emissions and approaching the net zero carbon target by meeting the majority of stadium electrical energy consumption with Solar Energy, which is a clean and renewable source.

Reducing energy costs thanks to the Solar Power Plant intalled on the stadium roof in the face of increasing energy costs.

As a pioneer in sports, Galatasaray aims to create social awareness by lead the field in the use of renewable energy sources.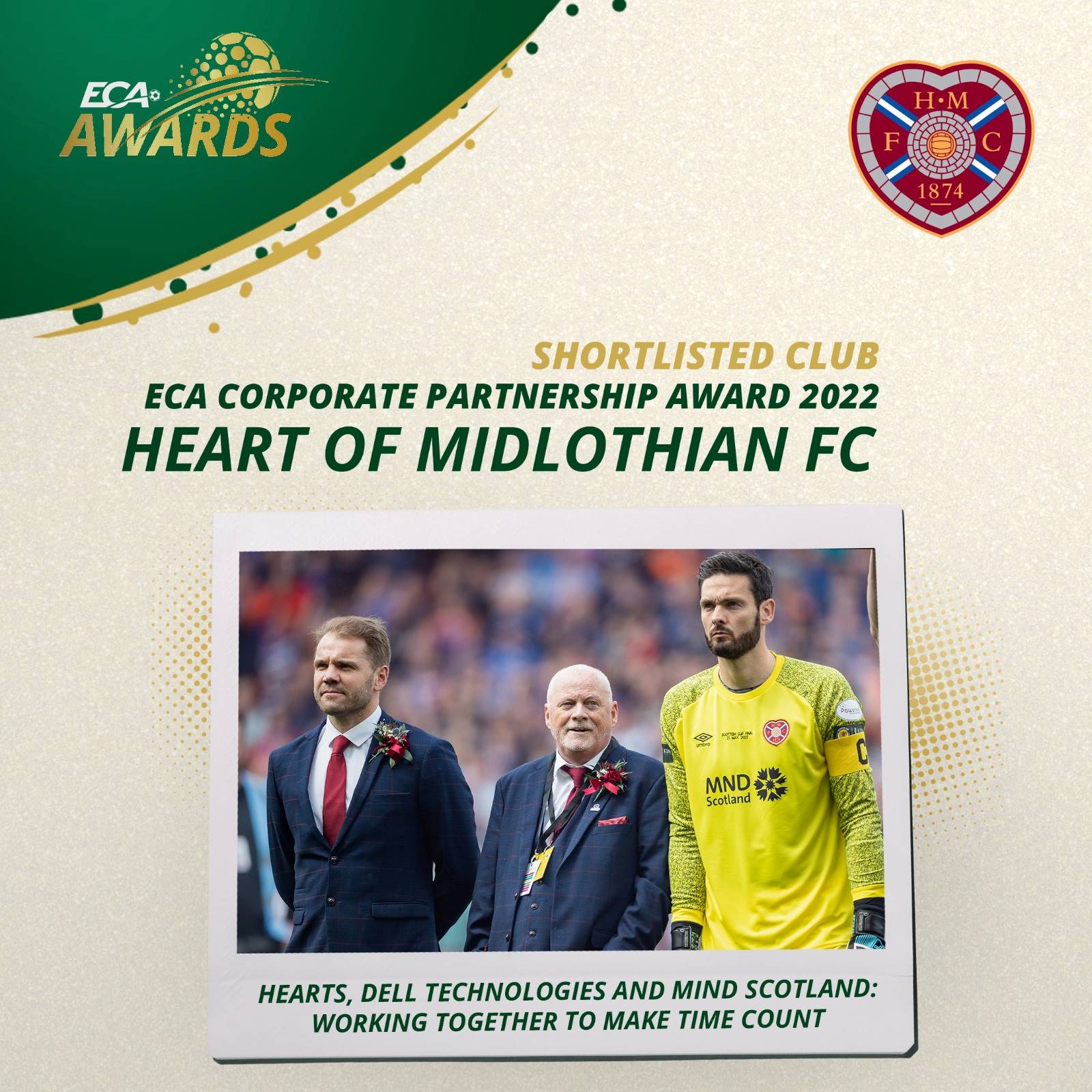 Heart of Midlothian FC

|

Heart of Midlothian Football Club, Dell Technologies and MND Scotland; Working together to make time count.
"As we explored further mutual areas of interest between the Club, Dell Technologies and our supporter base, we hit on a ground-breaking and innovative sponsorship concept that would go on to achieve the highest ever level of supporter engagement and provide significant support to a cause that was very close to both Club and Sponsor's hearts. Dell Technologies has been a long-time supporter of MND Association which provides vital support to those living with Motor Neurone Disease in England, Northern Ireland and Wales.  Using the model that we had deployed for the shirt, Dell Technologies acquired the front of the Men's First Team home shirt and gifted the space to MND Scotland, who provide support for those living with MND in Scotland."
PROJECT OBJECTIVES: 
Raise Awareness: Capitalise on the outreach of the club to raise awareness for MND Scotland's work and the impacts of living with MND.
Raise Funds: Use our position as one of Scotland's leading clubs to fundraise for MND Scotland and MND Association.
Engage Key Stakeholders: Galvanise our staff, supporters and players to support MND Scotland through club-organised and supporter-led initiatives – lobbying.