ECA, in partnership with its member club HNK Hajduk, successfully held a conference on member-owned football clubs titled "'Socio' Membership Structure: From strategy to implementation, management, and practice", in Split on 10th & 11th April.
ECA and HNK Hajduk's common position is that due to the nature of the 'socio' model with respect to supporter involvement and non-profit financial practices, clubs from all organisational structures can benefit from knowledge in areas such as community & fan engagement, communications and long-term financial sustainability. Therefore, the aim of this conference was to share best practice on the strategy and implementation of the member-owned football club structure.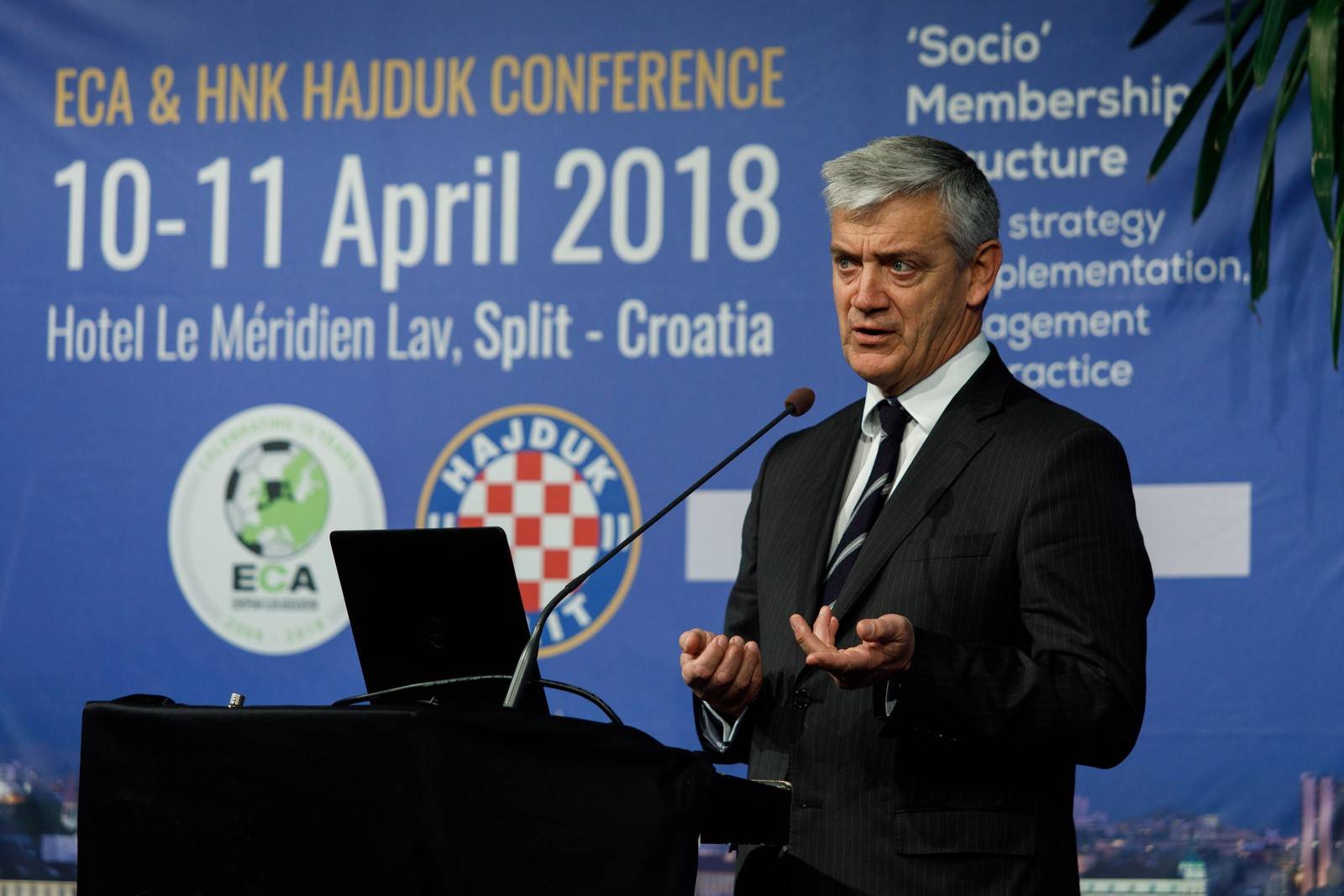 The two-day event kicked off with an introduction and overview of the 'socio' model, before hosts HNK Hajduk welcomed guests to the city of Split and outlined their vision in utilising a member-owned structure. Slaven Marasović, President of the Supervisory Board at HNK Hajduk, discussed the transition of the Croatian club into a 'socio' club, highlighting the benefits this change has had on sporting and business success. The opening session also provided opportunity for partners of the event, Naš Hajduk, to outline the role and challenges of the structure from the perspective of the supporter association.
ECA Executive Board Member & CEO of SL Benfica, Domingos Soares de Oliveira, shared details on the 'Benfica Model', outlining the challenges of running a business conglomerate both with and without a 'socio' hat on. Similarly, Pere Jansà Rodriguez, Director of the Social Area of FC Barcelona, in his talk on 'community ownership and a global strategy' stated that despite its commercial restrictions, "economic sustainability and the association structure are non-negotiable, and truly define the identity of the club". Jon Berasategi, General Manager of Athletic Club, echoed such sentiments, emphasising how the club achieved success based on unique values and a deep-rooted governance structure.
Following a day focused on strategic matters, the second day provided opportunity to discuss technical aspects of operations at 'socio' clubs. Sessions dedicated to areas such as academy operations, media & communications, and supporter relations, were provided by News Tank Football, FC Schalke 04, and the Swedish Football Supporter Union.
The event was exemplary in providing a platform for debate amongst clubs of different organisational structures, discussing and learning about the benefits and challenges of this unique model.