ECA Member Clubs have been invited to apply for the ECA Best Community & Social Responsibility (CSR) Programme Award 2018.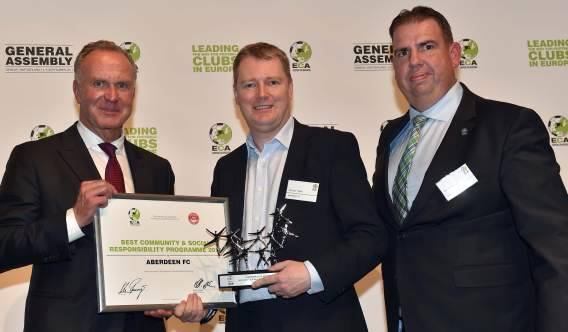 As in the past, the ECA CSR Award 2018 is awarded to an ECA Member Club with a club-driven project (a project initiated by the club; not a third party project in which the club participated), which:
aims at supporting/helping the local community by facing/tackling specific regional problems/issues
is clearly more a project than an event, showing continuity and sustainability
leads to positive results benefiting the local community where the club has its roots  
can serve as best practice for all ECA Member Clubs
All ECA Member Clubs have been invited to apply for the award. Each club may only submit one CSR project. The ECA Administration will assess all applications and submit a shortlist to the independent ECA CSR Award Jury 2018 to decide on the final winner. The Jury consists of:
Peter Gilliéron (UEFA ExCo Member & Chairman of the UEFA Fair Play & Social Responsibility Committee)
Hubert Rovers (European Football for Development Network, EFDN)
Duncan Fraser (Aberdeen FC, Winner of the ECA CSR Award 2017)
Last year's winner was Aberdeen FC, as ECA recognised the incredible work the Scottish club does with its 'Dementia Friendly Wellbeing' programme. The project supports those affected by dementia by significantly increasing the quality and quantity of dementia friendly activity sessions on offer in the North East of Scotland. Learn more about past winners of the ECA CSR Award.

The winner of the ECA CSR Award 2018 will be announced during the ECA Awards ceremony on 10th September 2018 in Split.

Deadline for submission is Friday, 13th July 2018 and applications should be sent by email to ida.dahl@ecaeurope.com.