Aberdeen FC, Real Madrid CF, Sporting Clube de Portugal and AS Monaco FC all recognised for their outstanding achievements both on and off the pitch at the ECA Awards 2017.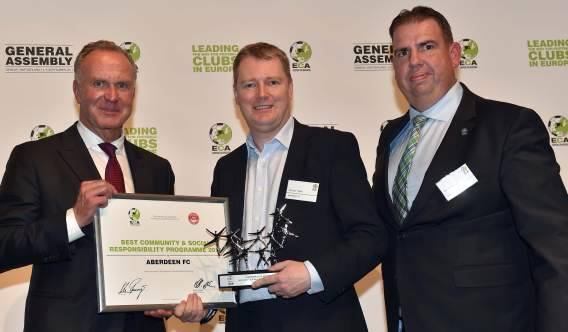 On the occasion of the 19th ECA General Assembly, the winners of the 8th Edition of the ECA Awards were announced. First introduced in 2010, the ECA Awards aim at rewarding outstanding club performances, encouraging best practice and highlighting successful club management.
The 2017 ECA Award winners are:

European Club of The Year 2017: Real Madrid CF (ESP)

For their outstanding achievements during the 2016/17 season at European and domestic level.
Best Sporting Progress 2017: As Monaco FC (FRA)

For their significant progress in European competition during the 2016/17 season.

After a 2015/16 European campaign which saw the club knocked out of UEFA Club Competition in the Europa League group stage, the club went on to have a highly successful 2016/17 season in European competition. In a UEFA Champions League group, which included Bayer 04 Leverkusen, Tottenham Hotspur FC and PFC CSKA Moskva, they emerged as group winners. The Ligue 1 outfit then went on to beat Manchester City FC, in one of the ties of the season, in the round of 16 before overcoming Borussia Dortmund in the quarter-finals. Their impressive European journey came to the end in the semi-finals as they were defeated by Juventus. To add to this remarkable run in Europe, they topped it all off by being crowned champions of their domestic league for the first time in 17 years. This great performance allowed the club to make a significant jump in the UEFA Club Coefficient Ranking 2017, jumping 29 spots, from position 58 to 29.

Best Community & Social Responsibilty Programme 2017: Aberdeen FC (SCO)

For their successful CSR programme "Dementia Friendly Wellbeing".
     "Dementia Friendly Wellbeing" aims at supporting those affected by dementia by encouraging and promoting the integration of those diagnosed in local community activities. Now in its third year of existence, the project has significantly increased the quality and quantity of dementia friendly activity sessions on offer in the North East of Scotland. Sessions such as Walking Football, organised by the project, are not ?dementia only? but rather ?dementia friendly?. Prior to the project, Aberdeen FC engaged with 21 people living with dementia or carers. Currently, Aberdeen FC directly engages with and supports 200+ people living with dementia or Carers on a weekly basis. Not only has the club held events for those affected but it has also assisted in positively developing public awareness and understanding of the challenges being faced by dementia sufferers. This unique project has given people with dementia the opportunity to interact with others, build new relationships, have a voice, and most importantly feel accepted.

For more information: http://www.afccommunitytrust.org

Similar to last year, the ECA CSR Award Winner was chosen by an independent panel, which this year was composed of the following members:
Peter Gilliéron, UEFA Executive Committee Member and Chairman of the Committee for Fair Play & Social Responsibility at UEFA;
Hubert Rovers, Chief Executive Officer at EFDN;
Peter Fossen, Chief Operating Officer at PSV Eindhoven (ECA CSR Award Winner 2016).
Hubert Rovers presented Aberdeen FC with the award and congratulated them for their outstanding CSR Programme, stating:

     "Across Europe, most football clubs primarily focus their community programmes on youth initiatives. However, the Dementia Friendly Wellbeing project from Aberdeen FC focuses on an often neglected demographic in those affected by dementia, such as the elderly. The club has identified the need to support dementia sufferers both mentally and physically. They are a frontrunner in the development of this innovative approach and can serve as best practice to inspire other clubs to carry out similar projects."

Women's Club Football Award: Sporting Clube De Portugal (POR)

For their outstanding contribution to the promotion of women's club football.

The club reactivated the women`s team for the 2016/17 season and immediately won the national championship "Liga Allianz" and the cup "Taca de Portugal". During this impressive first season, the club broke the attendance record for a women`s club football match in Portugal with 12,213 fans in attendance. The club has continued this great form by kicking off the 2017/18 season by winning the Portuguese Women`s Super Cup, beating rivals Sporting Clube de Braga on 3rd September 2017.