Good afternoon ladies and gentlemen. It is an honour to have so many friends of the ECA family with us today.
We warmly welcome the Hungarian State Secretary of Sport Dr. Ádám Schmidt, FIFA President Gianni Infantino, UEFA President Aleksander Čeferin and, virtually, IOC President Thomas Bach. We also welcome AFC President Sheikh Salman bin Ebrahim Al Khalifa for the first time; and CAF President Patrice Motsepe who always makes the effort to attend our General Assemblies.
We are delighted to host many League representatives including Chairman of the Supervisory Board of DFL Aki Watzke who is also a Board Member of the ECA this cycle, Serie A CEO Luigi De Siervo and LFP President Vincent Labrune. We are pleased to host FIFPro, Football Supporters Europe and the European Leagues, along with many other friends of the football family. And, most importantly, it is fantastic to see you, our ECA members and those in our Network who are joining us online.
On behalf of the entire ECA Executive Board and Vice-Chairmen who work so hard for all of us, I wish everyone a very warm welcome to the 29th General Assembly of the European Club Association here in Hungary. I am honoured, as always, to open proceedings and it is wonderful to see you.

Before we begin, I would like to pause to pass on our condolences, thoughts and prayers to those we have lost and those who have been suffering in recent times.
We think of everyone in Türkiye and Syria following the terrible earthquakes. In particular, we think of the families of Christian Atsu and Ahmet Turkaslan. I would like to recognize and thank Ali Koç and the Turkish Football Federation for all their efforts during this crisis. It shows how football leaders can set the best example and make a positive difference – not just in football, but in the world. We think also of those in Ukraine and we pray for peace in the region.
Finally, we remember others from the football family who we have lost recently. We remember European football legend Gianluca Vialli. We remember David Johnson, George Cohen and Volkan Kahraman. We remember Pelé – one of the greatest footballers the world has ever known who will forever leave his legacy on our beautiful game.

Hungary has a great footballing history – including the national team reaching the World Cup final in 1938 and 1954 – and we're proud at the ECA to have seven Hungarian member clubs in our family. It is a real pleasure to be here for this important General Assembly.
On your behalf, I would like to thank the ECA Vice-Chairmen, our ECA Executive Board and our Administration, who all work so hard for the ECA and for you. I would like to thank all our guest speakers over the next two days, including, Natalie Portman, Billy Beane, Tomasz Frankowski from the European Parliament, David Elleray and many great former players – who I know will inspire, inform and entertain us.
It makes us incredibly proud as the ECA to see how our General Assembly has become an event of such distinction, learning and inspiration. This is just a small sign of how far the ECA has developed its role in European and world football in recent years.

This year is the most significant year in the ECA's history. Not only do we mark and celebrate 15 years since the foundation of the ECA, but we will also set the structure and strategy of our organization for the next cycle.
In recent General Assemblies, I have talked in detail about our five strategic priorities and how we have been delivering on them. However, today I would like to step back and look up to the horizon. I would like you all to think in much broader, bigger and bolder terms. I hope everyone here leaves Budapest realizing the incredible potential of the ECA; and how we can unlock this potential together.

First, in this next era of the ECA, I am determined that we will be recognized for driving financial prosperity and distribution for the entire football pyramid, not just the elite. In recent times, after many tough negotiations, we have agreed some historic agreements in world football giving even more revenue to (i) ECA member clubs, (ii) non-ECA member clubs in Europe, and (iii) clubs around the world. As I always say, if we work together and expand our alliances, everyone benefits. A rising tide lifts all boats.
Regarding our relationship with UEFA, the commercialization of European club competitions under our Joint Venture with UEFA has already seen incredible growth, with over double increases in The Netherlands, the USA and elsewhere, together with many other fantastic results. This growth will continue as we roll-out more tenders with UEFA.
Thinking back to the sorry events in April 2021 – which we should not forget – the ECA's relationship with UEFA has changed completely in the past 2 years. Today, it is founded on trust, respect and common interest. As a result, we are both much stronger. Thank you President Čeferin.
Most recently, in fact at this General Assembly, after long and hard negotiations, we have achieved what many thought was impossible a few months ago. Earlier today, we signed a landmark new MOU with FIFA, which will also pave the way for further discussions on a Joint Venture between the clubs and FIFA. This new MOU with FIFA will see a 70% increase in club benefits. The new agreement will benefit hundreds of clubs around the world, not just the ECA, with more revenue and more player protection.
Clubs will also work much more closely with FIFA and Confederations on the International Match Calendar. We, as clubs, are very proud to have our players play for their national teams, and now we have a Collaboration Charter to negotiate the process and protocol for those releases, while our players will continue to be insured against injury.
The proposed Joint Venture we will discuss with FIFA for the commercialization of the Club World Cup will also open up whole new revenue streams for global club competitions. And the new Club World Cup format will be excellent – bringing more exciting games and more solidarity for everyone throughout the football pyramid, including non-participating clubs, without clustering the calendar. Thank you President Infantino.
Never before have clubs had more revenue distribution. Never before have clubs had more say in shaping their financial future, both in Europe and globally. We should be so proud.

Second, the major governance and membership reforms that we will pass at this General Assembly will make the ECA more democratic, more representative and more diverse – more so than any other organization in world football. With good governance comes good decision-making. That is why we are opening up as an institution even further.
With the changes to be approved at this General Assembly, the ECA will grow from around 240 to over 330 full members – a huge number of clubs across Europe. Our ECA Network supporting aspiring clubs– which was so important for me – grows more and more each day, with almost 100 additional Network Clubs. In addition, our members that are eligible for Board seats will increase by 223 clubs – more than 200%. We are also adding more Board seats dedicated to independent directors. And for the first time, I am so proud we will have new dedicated Board seats for women's clubs.
These reforms agreed today expand the ECA family to nearly 500 members, which is amazing. I am so pleased we are growing in every dimension. This is just the first step.
As an aside, I want to tell you that met with several non-member clubs over the past few weeks. When talking to them, all of them just want one thing – for their voice to be heard. I want to make it very clear. Everyone has a voice at the ECA – clubs of all shapes and sizes – and we want to hear from all of you. We are here to listen. Our door is open.
Our new governance reforms today formalize this more than ever before. The future leadership of the ECA will be truly representative and transparent – and this will be another foundation of our success for years to come.

Third, the institutional relationships we have built over the past 2 years will be the bedrock of our future. Not long ago, the ECA's relationships did not reach beyond a small region in Switzerland. Now, we reach every part of the world.
We have collaborative and constructive dialogue with UEFA and FIFA and every Confederation. We do not always agree on everything, but we completely agree to work together to find solutions.
Now we work with everyone. We engage with the European Commission, national governments and institutions like Harvard Business School. We have built new relationships at the heart of the European Union, including with the European Parliament. We partner with Leagues, FIFPro and fan associations. We share ideas and learn from other sports, industries and the world of entertainment.

I hope these thoughts trigger a transformation in our ambitions as an organization and broaden your horizons. You only need to see what we have achieved together over the past 2 years to understand our potential as an organization. It is really remarkable how far we have come in such a short space of time, and overcoming difficult moments.
Remember that you – our clubs – are the beating heart of football. Without the clubs and our players, a ball can't be kicked. Also remember that football is global and our players shape the global game. The ECA of the future will not only have weight in Europe – we will have weight in the world. We have only uncovered the surface of what we can achieve as an organization. We should be so excited for our next chapter.

I would like to leave you with a quote said during the recent 2022 World Cup Final opening ceremony:- "How beautiful it is for people to put aside what divides them in order to celebrate their diversity, and to celebrate what brings them together at the same time for the good of all".
I think this is the perfect description of the ECA. Yes, we are the sole representative body of European clubs in Europe and globally. But we are also a unique, diverse, open and vibrant community. Fundamentally, we are a family – one where our collective interests come above individual interests. And most importantly, we are a force for good and positive change – we must never forget this.
I hope you enjoy the General Assembly and I very much look forward to sharing ideas and views on our future together during our time in Budapest.
Thank you.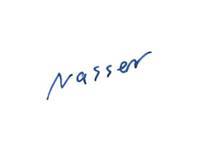 Nasser Al-Khelaïfi
Chairman
European Club Association