The 19th ECA General Assembly is set to take place on 4th & 5th September once again at the Président Wilson Hotel in Geneva, Switzerland.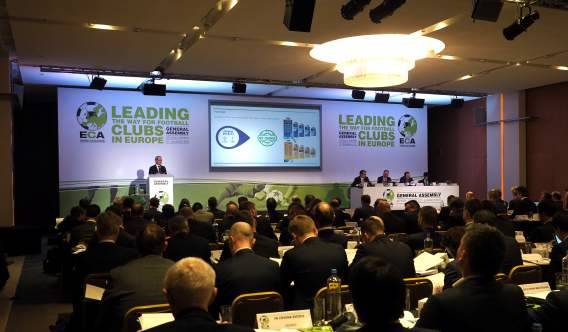 The 19th major biannual event of the organisation will be the first General Assembly of the 2017-19 ECA Membership Cycle and will, therefore, host elections for the ECA Executive Board (see candidate list below). Additionally, due to the recent announcement of the current ECA Chairman, Karl-Heinz Rummenigge not to run for re-election, the newly-elected board will appoint a new ECA Chairman. The General Assembly will also provide opportunity for new and existing member clubs to be updated on key dossiers such as UEFA Club Competitions, as well as the Video Assistant Referees (VAR) project.
The programme and agenda for the event is as follows:

Monday, 4th September 2017:

14h00-15h30 ECA Subdivision Group Meetings
16h00-17h30 Plenary Session I:
Welcome by the Chairman
FIFA's Address - Gianni Infantino, FIFA President
UEFA's Address - Aleksander Ceferin, UEFA President
Roll call
Minutes General Assembly meeting March 2017
UEFA Club Competitions, 2021-24 cycle consultation
ECA Governance and Change of ECA Statutes
19h30         ECA Awards


Tuesday, 5th September 2017:
09h00-10h00      Plenary Session II:
Opening by the Chairman
Administration Report
ECA Accounts and Auditors Appointment
UEFA Club Competitions 2018-21 cycle update
10h00-10h45      Executive Board Elections
10h45-11h15      Executive Board Meeting
11h15-13h00      Plenary Session III:
Video Assistant Referees (VAR) - Massimo Busacca, FIFA Head of Refereeing
Presentation of the new ECA Executive Board
Bestowal of ECA Honorary Title
Any other business
Conclusion and closure by the Chairman
13h30-14h00      Press Conference
PFSC Appointments & Executive Board Elections

In accordance with Article 18 of the ECA Statutes, the ECA Executive Board, at their meeting on 24th August in Monaco, appointed four members to represent ECA on the UEFA Professional Football Strategy Council (PFSC) to complete the UEFA committee cycle. It was decided to appoint Josep Maria Bartomeu (FC Barcelona), Nasser Al-Khelaifi (Paris Saint-Germain FC), Ed Woodward (Manchester United FC) and Peter Lawwell (Celtic FC). Subsequently, all four representatives will automatically take up a seat on the ECA Executive Board in the upcoming 2017-19 ECA Membership Cycle.

In relation to the ECA Executive Board elections taking place on 5th September in Geneva, the Board ratified the candidates. The list of candidates (as per 29th August 2017), is as follows:

Subdivision 1 (5 seats):
Pedro López Jiménez, Real Madrid CF (ESP)
Michael Gerlinger, FC Bayern München (GER)
Ivan Gazidis, Arsenal FC (ENG)
Andrea Agnelli, Juventus (ITA)
Jean-Michel Aulas, Olympique Lyonnais (FRA)
 
Subdivision 2 (3 seats):
Oleksiy Klimov, FC Chornomorets Odesa (UKR)
Domingos Oliveira, SL Benfica (POR)
Edwin van der Sar, AFC Ajax (NED)
Michael Verschueren, RSC Anderlecht (BEL)
       
Subdivision 3 (2 seats):
Valeriu Argaseala, FC FCSB (ROM)
Anders Hørsholt, FC København (DEN)
Dariusz Mioduski, Legia Warszawa SA (POL)
 
Subdivision 4 (1 seat):
Aki Riihilahti, HJK Helsinki (FIN)
Zurab Tsintsadze, FC Dinamo Tbilisi (GEO)

The General Assembly will be followed by a press conference at approx. 13h30 on Tuesday, 5th September. Media representatives wishing to attend are kindly requested to contact admin@ecaeurope.com.