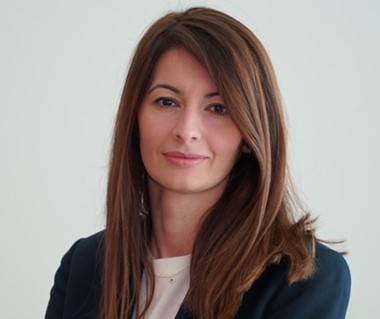 Lina Souloukou

Nationality: Hellenic
Date of birth: 11 October 1983
ECA Executive Board Member since: 2019
Biography
Lina was born in 1983 in Larissa, Greece where she grew up. Her father was a goalkeeper and later on a football coach and inspired Lina to always be involved in sports. She was a successful international Volleyball player until the second year of the first law degree at the National and Kapodistian University of Athens. During her studies she was privileged to be employed and work at the Doping Control Department of the Olympic Games in Athens 2004, acquiring not only an important professional experience but a once-in-a lifetime one.       
In 2005 she moved to Spain to finish her degree in Law at the University of Salamanca. Following her graduation in 2006, she obtained a Masters in Sports Law and Management at the University Politecnica de Madrid.
Her entire professional career was oriented in the football field, being a specialised advisor in various positions. Among other positions, she was appointed as a member to the Court of Arbitration for Football of the Hellenic Football Federation for 5 years. Furthermore during the past 12 years she represented and collaborated with many Football Clubs, Institutions, and other football stakeholders (players – coaches, etc) in numerous issues. Along with he sister, she set up her own legal firm in 2007 which is still going strong.
In 2016 her son, Michael was born and just after that she joined Olympiacos FC as Head of Institutional and Legal Affairs and over a year later she became General Manager, a position she still holds until today.